A one-year-old dog named Bell somehow managed to travel from Texas to Florida without a scratch on her body.
The Miniature Australian Shepherd went missing from her home near Houston, Texas, last week, First Coast News reported (scroll down for video). Her owner, Matt Turner, tried everything from social media to posting ads in order to find his beloved dog. But the most important action he took, which ultimately led to him getting his dog back, was something he did before she went missing: He had her microchipped.
Bell landed in Orange Park, Florida, about 900 miles from her home, where she was brought in to an animal shelter. Many shelters scan for a microchip as part of the intake procedure—as was the case with Bell. Her chip allowed the workers at the shelter to track down Turner. He and his son flew to be reunited with Bell on Monday, August 10.
As for her journey from Texas to Florida, no one is quite sure how she got there, but the lack of scratches or wear on her paw pads make vets suspect someone drove her.
According to AKC Reunite, one in three pets go missing in their lifetime. Having a microchip (and a GPS collar designed for dogs) can greatly increase the likelihood you'll be reunited with your four-legged friend should he go missing.
If this story isn't enough evidence of the importance of microchips, click here to read about a dog who recently made his way back to his family nine years after going missing.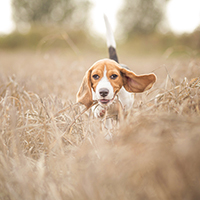 What to do if your pet goes missing?
If the unthinkable were to happen, are you prepared? Download this e-books to learn what steps to take if your dog goes missing.