You can't stay together for the dog.
But if a married couple does decide to split, who gets the family pet?
That seems to be the hot-button issue with recent divorce cases, Reuters reports.
The last five years have seen an increase in custody battles over pets (in 88 percent of the cases, the pet was a dog). For instance, in 2013, Olympic figure skater Johnny Weir publicly fought for custody of his Japanese Chin after his split from Victor Voronov.
Reuters suggests that one reason these cases are becoming more common is the decrease in couples having children. "Therefore pets become like children—and people will fight for them," New York attorney Jacqueline Newman says. Also, people are investing more in their pets—the American Pet Products Association reports that Americans will likely spend $60.5 billion on their pets by the end of the year (an increase from last year's $58 billion).
That's where the law gets tricky.
"Domestic pets are treated as personal property in the eyes of the law" reads an article in the International Journal of Law, Policy and the Family. "This is in sharp contrast with the perception of many pet owners who see their pet as a member of their family." Our sister site, WOOFipedia.com, cited a recent Virginia Supreme Court ruling that stated that pets are different from other property. "Their long and intimate association with people gives rise to special concerns for their well-being and humane treatment…" it ruled.
So what to do if you and your former partner are fighting for custody? The Animal Legal Defense Fund, who has been reporting an increase in such cases since 2006, recommends gathering proof that you were the person who purchased the pet or that you were the primary caregiver (e.g., receipts for grooming, vet visits, etc.) and speaking to your attorney about possibly using neighbors as witnesses to your primary role in taking care of the animal should it come to that.
Some couples even resort to sharing custody of the family pet. Speak to your attorney for individualized advice that works best for your situation.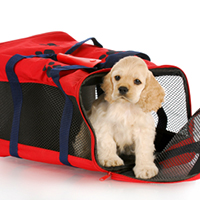 Moving with your pet
Download this e-book for tips to help you prepare for a move with your pets.