We've all seen the headlines and marveled at the stories.
Dog missing for 9 years reunited with owners
Missing Dog Reunited With Owner After 3 Years Couldn't Stop 'Jumping And Wiggling'
Dog Offered for Sale Was Lost, Identified Through Microchip
These happy endings are all thanks to a tiny device, no bigger than a grain of rice, known as a microchip. To remind pet owners of its importance, the American Veterinary Medical Association and the American Animal Hospital Association has declared Saturday, August 15, National Check the Chip Day. Its goal is to encourage more widespread adoption of the technique, and to urge people who have already had their dogs or cats chipped to make sure that they keep their information current. You can find out more at the event's dedicated Facebook page.
Animal hospitals and shelters throughout the country will be promoting the practice through low-cost chipping clinics.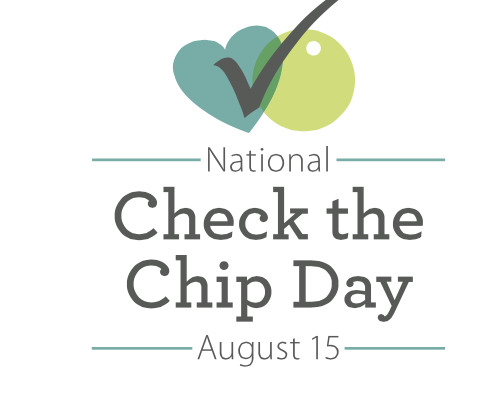 According to AKC Reunite, an AKC affiliate organization dedicated to providing lifetime recovery services for microchipped and tattooed pets, one in three companion animals will go missing at least once in a lifetime. Microchipping, in which a tiny radio-frequency identification transponder is inserted under the skin between the pet's shoulder blades, makes a reunion much more likely.
According to the AAHA, microchip insertion is routine and painless, requiring no anesthesia. It is also inexpensive, costing about $10–$40. AKC Reunite is part of the AAHA's Universal Pet Microchip Lookup Tool, which allows a quick scan among a number of chip manufacturers and public registries.
A 2009 study of more than 7,700 strays, published in the Journal of the American Veterinary Medical Association, found that more than 50 percent of lost dogs who had microchips were returned to their owners. Only about 20 percent of unchipped dogs made it back to their owners.
Related AKC Stories:
http://www.akc.org/news/dog-lost-found-home/
http://www.akc.org/government-relations/legislative-alerts/ny-committee-considering-positive-bill-to-help-lost-dogs/
http://www.akc.org/akc-dog-lovers/why-should-you-microchip-your-dog/
http://www.akc.org/akc-dog-lovers/microchip-reunites-honey-missing-dog-with-family/