Photos and text by Carrie DeYoung
Congratulations to Desiree Snelleman and "Pace," her 5 1/2 year old Border Collie NAC MACH2 Tempo in Motion MXS, MJS, MXF, T2B, who ably represented the AKC and the United States at the World's Largest Dog Show, CRUFTS, recently held at the National Events Centre in Birmingham, England. The pair competed in both the British Open Agility Final on Thursday, March 5th, placing 9th in Large Dogs, and in the International Agility Invitational on Saturday, March 7th 2015, placing 11th overall in Large Dogs.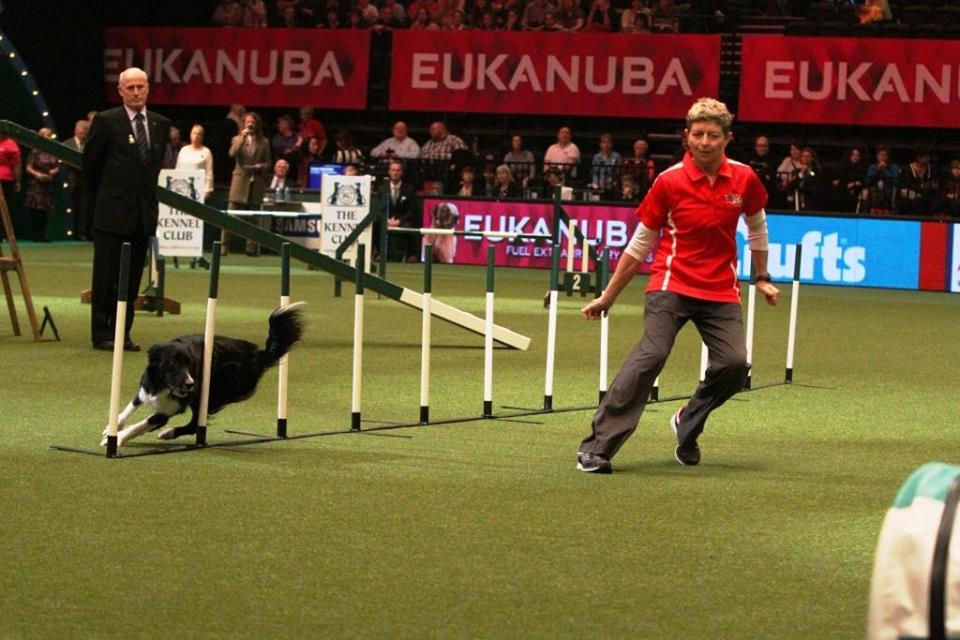 Desiree and Pace began their international agility career in 2012 with the AKC/USA European Open Team traveling and competing in Sweden. They were also on the European Open Team in 2013 in Belgium. They competed in the International Agility Festival in Rockingham Castle, UK in 2013 and in the British Open event in 2014. They earned 2nd place finishes both years and were invited to the Crufts British Open Agility Final as the top International Large Dog team both in 2014 and 2015. Desiree and Pace won their spot onto the AKC/USA World Agility Team in 2014 and competed in the FCI Agility World Championship in September in Luxembourg. They took the bronze medal in the Combined Individual Large Dog class and placed 4th in the Team Jumpers Large Dog class.
Desiree started her agility career back in 2004 with her Siberian Husky, T'ai. He set the stage for things to come by being the first Siberian Husky to earn a spot on the podium in the 24 inch class (3rd place) in both the AKC Invitational in 2009 and the AKC National Agility Championship in 2012. Stinger, her oldest Border Collie was one of the top 5 in his breed invited to compete at the AKC Invitational in 2009 and 2010. Stinger has been a consistent performer on the national level since he was 2 1/2 years old.