Owners planning to travel with their dog by air next year will want to take note of one major airline's planned policy changes regarding pets on its flights. Delta recently announced that beginning March 1, 2016, the airline will no longer accept pets as checked baggage.
What does this mean for dog owners? It means that for dogs who are too large to travel comfortably inside a carry-on that can accompany a passenger in the cabin, for travel on this airline the dog's flight will have to be booked separately as an air cargo shipment. Among other differences in procedure, this could mean that the dog would not be traveling on the same flight as the passenger. Also, a pet traveling as cargo will have to be dropped off at a separate location from passenger check-in, and at least three hours before departure time. (For more about shipping your dog via cargo, see below, and visit the Delta website.)
Delta says that customers on their airline can continue to travel with pets as checked baggage through Monday, February 29, 2016.
The airline will be contacting customers who have already booked flights after that date and had arranged for their pet to travel with them as checked baggage.
Exceptions for military and service dogs

Dogs owned by members of the military with active transfer orders will be exempt from the new policy.
One exception to the new policy will be for members of the military who have active transfer orders.
Properly documented service dogs and emotional-support dogs will also continue to be accepted for travel with their owners as checked baggage.
Smaller pets will continue to be accepted in the cabin as carry-on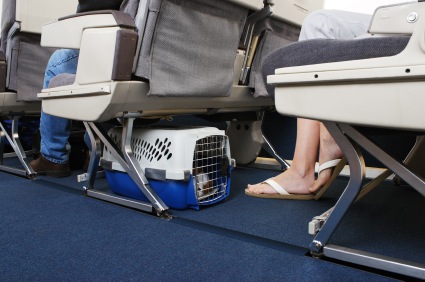 The policy change going into effect on March 1, 2016, will not affect smaller pets who fit in travel cases that meet airline requirements for pet carry-ons.
The new policy will not affect puppies and small dogs who can fit comfortably inside a soft- or hard-sided carry-on that will fit under the seat in front of the passenger. These will continue to be accepted for travel on most Delta flights. Pet carry-ons brought into the cabin must be leakproof and ventilated on at least two sides.
Procedure and requirements for pets flying as cargo
Owners who plan to have their pets fly via Delta Cargo should be aware of the procedures and requirements, which include:
Pets traveling as cargo must be booked separately.
Arrangements to ship a pet through Delta Cargo cannot be made more than 14 days in advance.
Pets are not guaranteed to be on the same flight as an owner who is traveling.
Pets must be dropped off at and picked up from a separate location from passenger check-in and arrival.
Pets must arrive at the cargo office at least three hours before departure time.
"Many of us at Delta are pet lovers, and we know that they are important members of the family," said Bill Lentsch, Delta's senior vice president of Airport Customer Service and Cargo Operations. "This change will ultimately ensure that we have a high-quality, consistent service for pets when their owners choose to ship them with Delta Cargo."
Visit Delta's website for more information on the airline's health certificate and crate requirements regarding transport of dogs, as well as breed and temperature restrictions.