A 16-year-old Poodle named Coco, who is deaf and partially blind, went missing from her North Carolina home. A month later, she was found—in Massachusetts. And thanks to social media, animal control officers were able to put the pieces together and and locate the dog's owners.
According to the News & Observer of Raleigh, Coco disappeared when her owners let her outside to go to the bathroom. Searches of the area turned up no leads.
Meanwhile, in Belchertown, Massachusetts, a stray Poodle was picked up by animal control. They received a tip that a woman (who wasn't named by the tipper) had found the dog wandering around in North Carolina and brought her to Massachusetts before then abandoning her, the News & Observer reported.
A worker at animal control got in touch with animal control officer Angela Lee in North Carolina through an industry Facebook page. After Lee posted photos of the dog on various social media sites, she was connected with Coco's owners.
A pilot then volunteered to fly Coco to North Carolina, where Lee was able to receive her and foster her until the owners pick the little dog up tomorrow.
See a video of Lee and Coco here.
Tip: If your dog goes missing, use social media to your advantage—you'll never know how far a post can spread. Get more tips here. Also, consider microchipping your dog and purchasing a GPS device designed for dogs.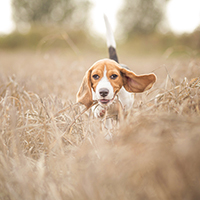 What to do if your pet goes missing?
If the unthinkable were to happen, are you prepared? Download this e-books to learn what steps to take if your dog goes missing.