By Alice Fix
Reprinted with permission from The Barker
I was thinking about how our dog club, the Chinese Shar-Pei Club of America, could do something that would leave more than a positive economic impact on the community where we hold our national specialty shows.
I wanted us to contribute something to the community that would make the community glad that we came there and something that made a difference by our having been there. We have been doing financial impact cards for several years now, but those are shared with hotels and city councils. The community never really gets much of that information. I was thinking along the lines of a bullet proof vest for a police dog, oxygen masks for animals, stuffed dogs of our breed for the police to give out to children that need to be separated from their parents on an emergency basis, and books for the library about dogs. I took my thoughts to our board members and they thought it was a good idea. After putting all our thoughts together the Board decided to donate animal oxygen masks to the fire department. Pets retrieved from burning homes or buildings could benefit from oxygen therapy because of the smoke inhalation. This is a relative new idea and not all fire departments have pet masks on their fire trucks and ambulances.
The board appointed our legislative liaison, Darin Cox, to head up this project. He researched the costs and brought his findings back to the board. With the help of the Lawrence Jayhawk Kennel Club, Darin contacted Lawrence and Douglas County Fire-Medical Chief Mark Bradford to see if they needed the masks or already had them. Chief Bradford was very receptive of the idea and agreed that they would appreciate the donation.
On behalf of the CSPCA, we decided to donate four sets of oxygen masks from Wag'N O2 Fur Life to the Lawrence Fire Department. Each set has three different sizes of masks and there is a DVD instructional video as well.
The masks were presented to the Lawrence Douglas County Fire & Medical Department during our National Specialty show in Lawrence, Kansas on October 10, 2014. The fire chief was very happy to receive them. They already had human oxygen masks but they don't work so well on animals. Our donated masks are designed specifically to fit on a dog or any animal's muzzle. The local television station came to the hotel to get some photos of the presentation and the dogs. Being a little late, they missed the presentation but took some film of the dogs that they aired that night.
Mr. Cox set up a time and day to make the presentation to Chief Bradford at our show. The local news media was invited by Chief Bradford's Public Information Officer. The presentation was made and there was very good news coverage of the donation. Our club members left town with a good feeling that we had done something good for the community. The citizens of the town were glad that we had come and left the masks to be used by the fire department for any of their animals that might need them in the event of a fire.
Just a few weeks later there was a fire at a boarding kennel that was housing twenty-two dogs. The fire department was able to rescue and revive all but one of the dogs with the use of the oxygen masks that we had donated. The Lawrence local newspaper called Darin Cox, our legislative liaison, to notify him that there had been a boarding kennel fire near Lawrence, Kansas and the fire department came to their rescue with the oxygen masks on board. The local news story made a big deal of our donation of those masks saving the dogs' lives. It was incredible news coverage of a positive impact that the Chinese Shar-Pei Club of America was able to make with a gesture of goodwill for the town.
We covered all these events on our Facebook page, and quickly we started getting messages and comments from the local people of Lawrence, Kansas thanking us for our donation that helped to save all those dogs. We also got thank you notes and photos of the dogs that were saved that day due to the masks. It was an incredible response and something that we never could have imaged
A small gesture on our part lead to making a difference in the community we had been to and in the lives of those dogs which is exactly what we had hoped would happen. Today many in that community are saying that they sure are glad the Chinese Shar-Pei Club of America came to their city and left those wonderful masks. We have left a very positive impression for our dog club and also for dog shows as well. The impact we left on that community with the donation of the masks completely surpassed our wildest expectations. Since the response was so positive, this will be something that we will continue to do in the future.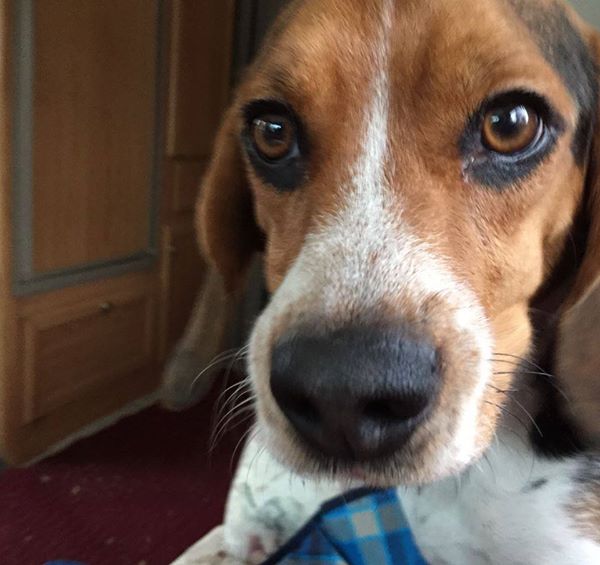 Charlie, a dog that survived the fire due to the CSPCA's donated oxygen masks