Spencer's Bar Mitzvah is coming up. In the year leading up to it, it's customary to prepare by getting involved with a cause or charity, either as a volunteer or to raise funds. This 12-year-old from Montclair, New Jersey decided to use his love of dogs, and his creativity, as the motivation to launch his Caring Canine Costume Campaign Facebook page. The contest invites people to post a photo of their dog dressed up in his or her (or more likely, your) favorite costume.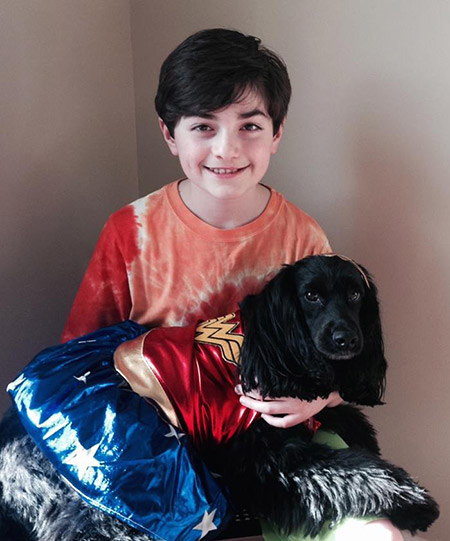 Spencer explains how it came about:
"I love dogs and my whole family lights up when they see our dog, Sasha. She makes us happy and helps us recover from a hard day. When I'm sick and have to stay home from school, she never leaves my side. For my Bar Mitzvah project, I thought it would be perfect if I could raise money for an organization that uses the healing power of dogs to help people. What better choice is there than the Good Dog Foundation."
... and how it works:
"Posting a picture of your dog makes you eligible to win a prize! The winner is the owner of the dog that looks best/cutest in their costume, as chosen by a panel of judges. The winning photo will be posted on the Good Dog Foundation website. There is no minimum donation to enter but we hope you will make a gift. My goal is to raise at least $1,000. Every donation, no matter the size, is meaningful. Because you are donating to the Good Dog Foundation, all gifts are tax-deductible. The important thing is that this is for a great cause so please dress up your dog and donate today!"
Spencer chose The Good Dog Foundation because it uses animal-assisted therapy services to ease human suffering and promote recovery from trauma and stress. The organization brings certified therapy dog teams to nursing homes, hospitals, schools, and community facilities in New York, New Jersey, Connecticut, and Massachusetts. They also assist at disaster sites throughout the U.S.
Here's more about The Good Dog Foundation's work:
The contest runs until November 1, 2015, so all you dog lovers with a fondness for dressing up your dog and showing her off, you've got time!
Related:
See Scout Fly! This Special Therapy Dog Catches Air
Service, Emotional Support PTSD, Therapy Dogs: What's the Difference?
See a Homeless Vet with Cancer Get Reunited with Lost Service Dog
A Portable Parking Garage for Dogs Opens in Texas to Prevent Dogs from Being Left in Cars