In 2013, Michelle L'Heureux of Auburn, Maine, was standing at the finish line of the Boston Marathon when one of two homemade bombs exploded next to her. L'Heureux severe injuries to her arm and leg from the attacks, which ultimately killed three individuals and injured hundreds more. When she was finally ready to attempt walking again, two comfort dogs from the Lutheran Church Charities, who had been visiting many of the victims, were there by her side. Then, when L'Heureux returned to Boston to run her first 5K since the attacks, the two Golden Retrievers, named Ruthie and Luther, were once again her personal canine cheerleaders.
See how L'Heaurex has progressed here: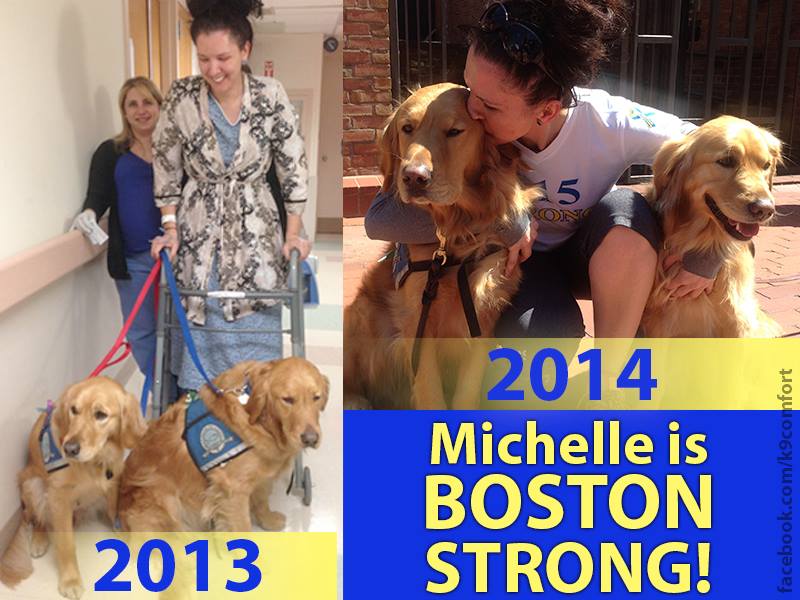 Lutheran Church Charities, a nonprofit ministry based out of Addison, Illinois, deploys its K-9 Comfort Dogs to areas affected by a crisis or a natural disaster. The specially trained Golden Retrievers and their handlers are on hand for anyone who asks to spend time with them. They've sat with family and community members affected by the Sandy Hook Massacre in Newtown, Connecticut; with victims of the Moore, Oklahoma, tornado the following year; and with individuals injured after the 2013 Boston Marathon bombing. Ruthie and Luther and a few of their canine buddies returned for the 2014 Boston Marathon to offer slobbery support and a tail wag to participants and spectators.
According to Tim Hetzner, president of the ministry, people who have been traumatized by an event will often find it easier to talk about their feelings to a dog than a human. "Unless you see if happen, it can be hard to believe that people will talk to a dog," Hetzner explains. "But they're like furry counselors. They don't talk back—they just listen and show unconditional love."
Kudos to these fantastic four-legged volunteers!
See more photos of the dogs at the 2014 event here: