The Coeur d'Alene Dog Fanciers recently presented the Coeur d'Alene Police Department's K9 unit with two bullet and stab-protective vests. Club members decided to make this donation in appreciation of their heroic dogs and the service they provide the community.
Club member Sheri Hollenback was interviewed by the local CBS affiliate KREM about the donation:
"Obviously we're all dog lovers, so we don't want to have anything happen to them," said Sheri Hollenback with the Coeur d'Alene Dog Fanciers.
The Fanciers said every year they try to give back to the community in some way that supports the well being of dogs. This year, they thought of no better way than to give back to the police department. They reached out to handlers of both Coeur d'Alene Police K9 Halo and Pecco and discovered that the dogs were in need of the vests.
"The thing we want to support is having dogs that are good citizens in our community. Dogs that are well loved in their homes," said Hollenback.
Watch the entire clip here.
Coeur d'Alene Dog Fanciers is dedicated to promoting responsible dog ownership in the community by regularly offering AKC events and various dog socialization and training classes. Learn more about the club here.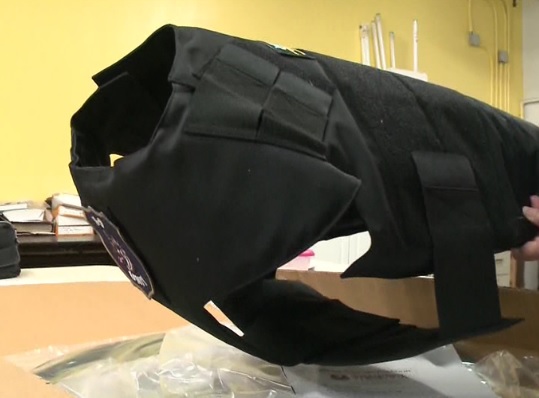 One of the protective vests. Photo credit: KREM