The Daily Chronicle covered the Kennel Club of Yorkville's 59th and 60th dog shows, which were held at the Northern Illinois University Convocation Center on Saturday and Sunday, April 4-5.
From the story:
Diane Corkey, Show Chairperson for the Kennel Club of Yorkville Dog Shows and a treasurer of Kennel Club of Yorkville, said the show was a chance for dog owners to showcase their pets and also provide information to those who wanted to become dog owners.
"Basically the reason for any of the [dog] shows, not just us, but every show, is to judge the purebred dogs, the quality, people are looking [for it] to be a champion. ... We do this so that the people do have the chance to show their dogs and to show off to people that come in. [If] they might want to want to purchse the dog, they are looking for a specific breed, so they want to meet good breeders."
Read the entire article in the Daily Chronicle.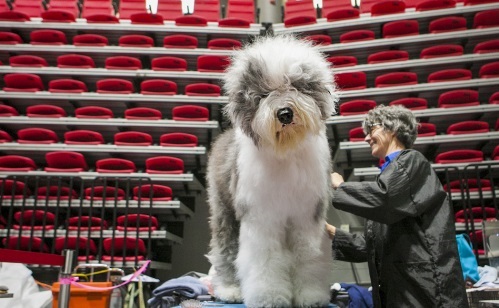 (Danielle Guerra – dguerra@shawmedia.com)