The Capitol Dog Training Club of Austin (CDTCA) reached a milestone -- the club's 50th anniversary -- on Sunday, April 12 and marked the occasion with a celebratory agility trial and two special events.
Dogs that were at least 10 years of age and had competed or titled in any AKC event marched in a Parade of Veterans to kick off the day's activities, with each team receiving a commemorative ribbon.
The club also hosted a "50th Anniversary Challenge Event." Dogs ran through a start/finish tunnel, whipped through 24 weave poles, hurried through a U-shaped tunnel, ran back through the weaves again, and stopped the time clock by entering the start/finish tunnel. Dogs and handlers competed for cash prizes in all height classes and had a great time.
Congratulations, CDTCA, on your 50th. Here's to many more!
Check out photos from the agility trial in the Killeen Daily Herald here.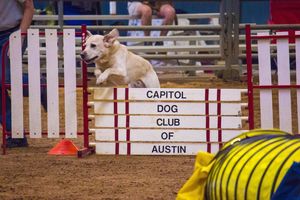 Lana Husband | Herald