If disaster strikes, the dogs and cats of Chula Vista, California, are now protected thanks to a donation from AKC Reunite. The organization gave the Chula Vista Animal Care Facility a fully stocked pet disaster-relief trailer to set up an emergency pet shelter that would allow owners to keep their pets near them during an evacuation. The ribbon-cutting ceremony was covered by CBS8 (scroll down for video).
The trailer includes 65 crates for dogs and cats, microchips and scanners, cleaning materials, and office supplies, among other pet-supply necessities, like bowls and leashes. It's also wired for electricity with a generator. See the full list here.
"Once you get all the equipment out of the trailer, it can become a mobile command post," AKC Reunite Vice President Tom Sharpe told CBS.
The trailer is the most recent of 43 to be delivered in cities around the country. Eight more are soon to be delivered in Washington, Texas, Georgia, New Jersey, Illinois, Virginia, Arizona, and Florida.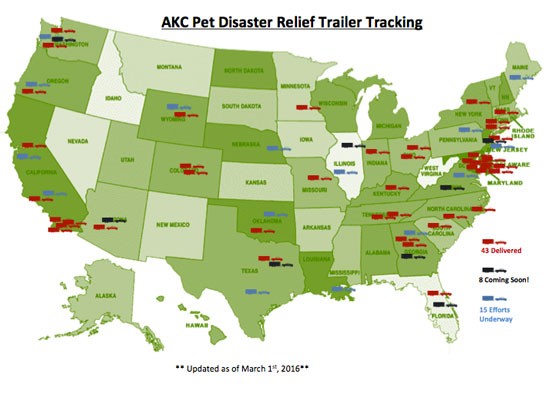 "Let's hope we never have to use it, but if we do, we're prepared," said Mariya Anton of the Chula Vista Animal Care Facility.
The trailers cost about $22,000, and is paid through by fundraising and donations made to AKC Reunite. To make a donation or learn about getting a trailer in your area, visit AKC Reunite.

Click here to read 4 fast things you can do to save your pet during a natural disaster.