Piper is a Bullmastiff on a mission. Along with owner, Mariah Leal, she is sharing the secrets to having a great life with your dog.
"My mission is to educate children about the importance of training and socializing puppies," says Leal, who has published a five-book series about her sweet-tempered Bullmastiff's first year of life. The books delve into how puppies learn, how to deal with fear situations, and the importance of training and socialization. The team also visits libraries, schools, and boys and girls' clubs, offering advice on how to approach and play with dogs.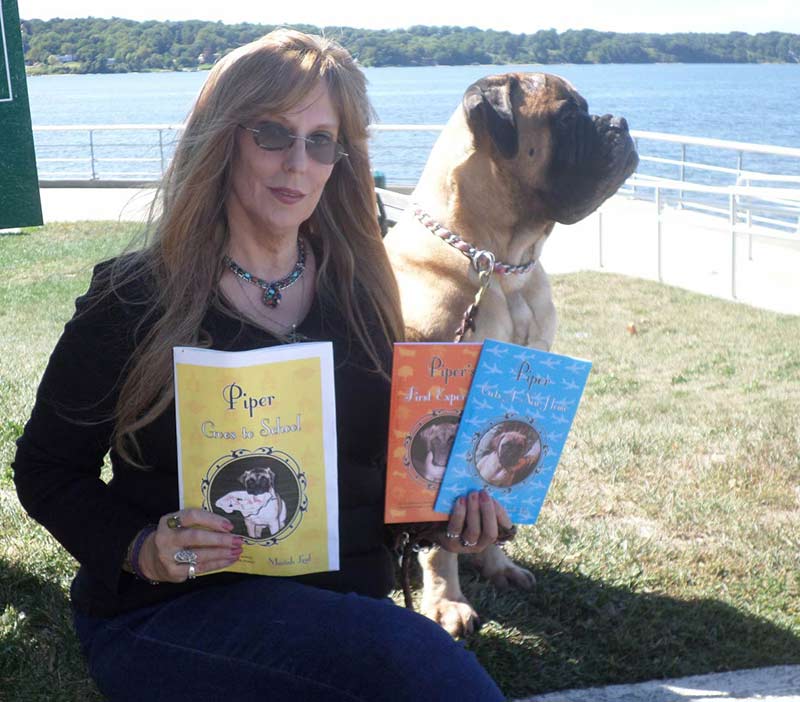 Bullmastiff Piper and Maria Leal
Leal says her goal in all of this is to reduce the number children who get bitten by dogs. She's also hoping that by showing how important training and socialization are, she can help prevent dogs from ending up in shelters.
The statistics are sobering. The Centers for Disease Control and Prevention estimates that about there are approximately 4.5 million dog bites in the U.S. each year. The victims are often children.
As for the dogs who end up losing their homes, about 90 percent of those who end up in shelters have had no training, Leal says.
Leal and Piper are aiming to change those figures, one student, class, and book at a time.
Leal knows first-hand the incredibly positive—in fact, lifesaving—impact a dog can have on a person's life. In 2002, Leal was disabled in a head-on collision. She could no longer perform the work she had been doing for years—veterinary technician, groomer, and trainer, work that she had been aiming to do since she was a very young girl. Her love of animals stretches back as long as she can remember. She has shown Doberman Pinschers and Afghan Hounds. All of her dogs have passed their AKC Canine Good Citizen tests and one of her Dobes was a therapy dog.
Around the same time as the accident, one her beloved pets, a 5-year-old Great Dane, died. Her other dog, an Akita, was very old and Leal knew that she would not be around much longer. The combination of the accident and the loss of her old friends plunged her into a deep depression.
Her doctor's prescription? A puppy.
Leal always loved Bullmastiffs. She first considered a rescue but, because of her disabilities, she was concerned that she lacked the strength to handle an untrained a dog who could weigh 100 pounds or more. Leal found a breeder and described her dream dog, with an emphasis on a solid, sweet temperament. Soon after that, a 3-month-old puppy entered her world.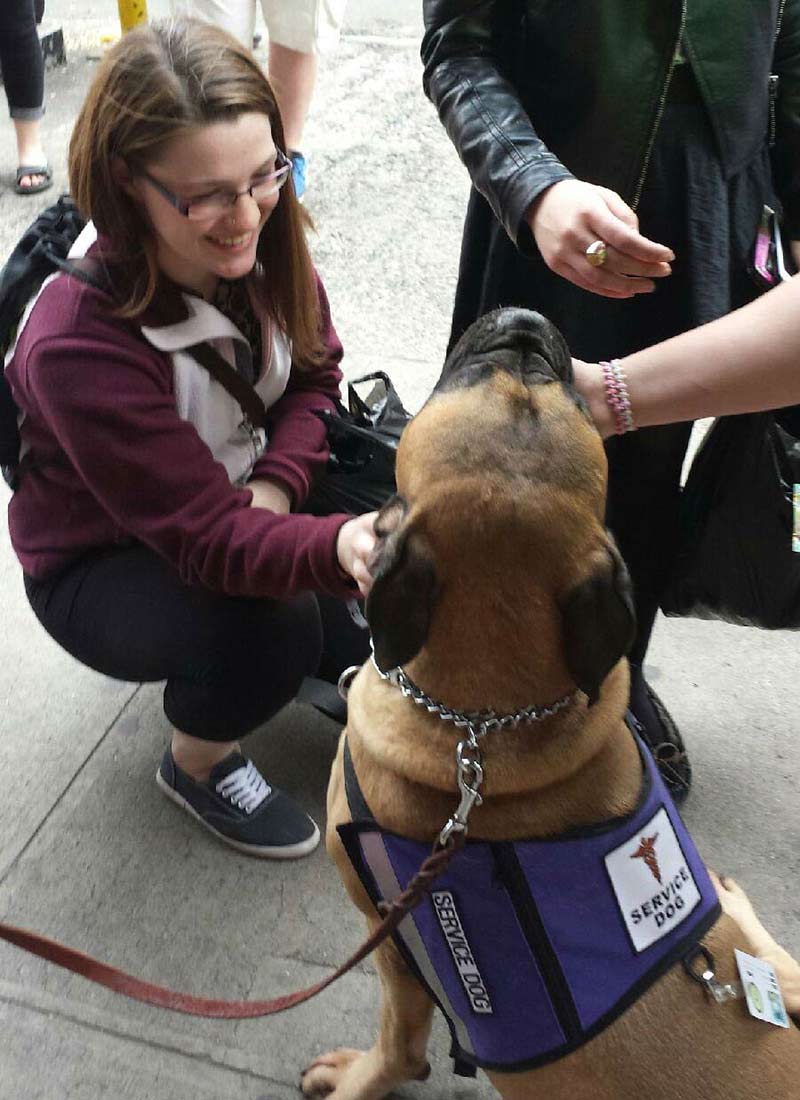 "Piper and I bonded immediately. I began keeping a log on her activities—new things she experienced, how she learned, and her silly antics," Leal recalls. One night she was going through the logs and realized that she had the makings for a book or even a series of books. "So, The Adventures of Piper series of books was born," Leal says. "Piper gave me a way to stay in a field I loved in a way that I could also educate children."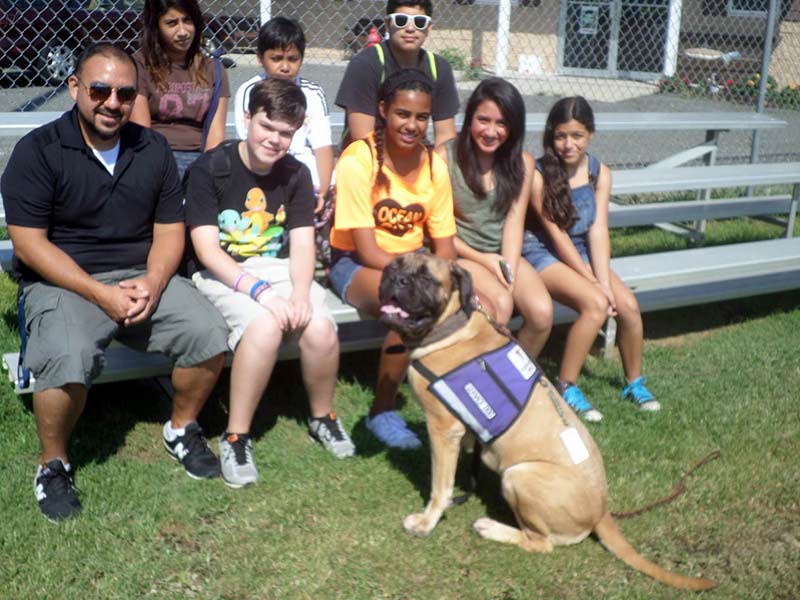 Piper is the perfect partner for this kind of work. She has a special intuition, an ability to know just what to do to make people feel better. "Even from a puppy she seemed to have an innate sense of when I was having one of my bad days," Leal recalls. Piper's sensitivity extends beyond her own family. She's one of those dogs who can sense when a stranger needs some comfort. Leal recalls one day in particular, when she had taken her exuberant young dog to a Blessing of the Animals ceremony. Piper got really excited seeing all the other dogs, but that changed as soon as a woman pushing a small boy in a wheelchair came into view. They had a Scottish Terrier with them. "Piper immediately calmed herself down, went over and sniffed the dog and sat quietly watching the boy and wagging her tail," Leal recalls. "She has a wonderful temperament and I am so grateful to have her."