When Richard Hunter starts training for his next marathon, he'll be getting guidance from his four-legged running buddy. Hunter, who is visually impaired, is the first person to have an official guide dog trained for running, through Guiding Eyes for the Blind.
The former marine was diagnosed with a degenerative eye disease in 1990, but in spite of the setback, he was still motivated to train and complete in endurance races. In 2013, he and a sighted guide were two hours into a five-hour bike ride, training for an Ironman competition, when they were struck by a car. Hunter suffered lacerations, a concussion, and a broken neck. After recovering from his injuries, training remained difficult because of the concern over his safety and because the accident worsened his vision. "I ran off the path, I tripped over a cable, I bumped into things," Hunter recalls.
But in 2014, by a stroke of luck, Hunter happened to meet Guiding Eyes President and CEO Thomas Panek at the starting line of the Boston Marathon. "I asked him about being able to run with a guide dog," Hunter says. "He took that question back to the headquarters, and they decided to start a pilot program." Until then, handlers were told not to run with guide dogs as the dogs were not trained for this purpose. But, Panek wondered, could they be trained to do so while maintaining the safety of the dog and the handler?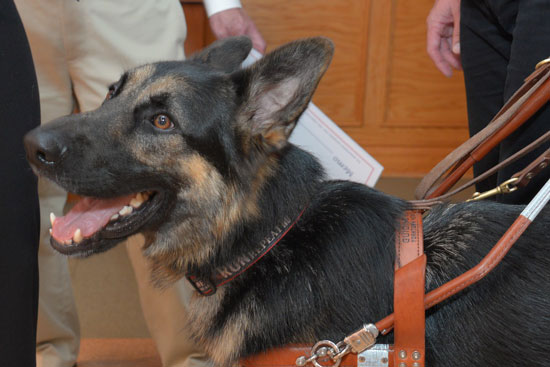 Klinger, a German Shepherd Dog, was identified as the best pup to test out this theory. After spending a year and a half in a volunteer's home being socialized and trained in basic skills, Klinger was brought back to Guiding Eyes in Yorktown Heights, New York, and spent six months learning to run. "They made sure it was something Klinger really loved to do," Hunter says. "He has endless drive and energy; it was like he was meant to help me. Guiding Eyes was really focused on the dog's safety and making sure he had the right kind of temperament for this."
Klinger started running one mile and eventually worked up to six miles three times a week, sometimes with blindfolded staff to ensure he could still complete the tasks necessary to safely guide Hunter during training runs.
After Klinger was trained, Hunter spent three weeks at the Guiding Eyes facility learning how to work with his new guide dog. Together, they graduated from the program on August 22. The next step is for Klinger to familiarize himself with the running routes, walking them with Hunter at first. Guiding Eyes will monitor their progress to consider this pilot program as something that could possibly be implemented to help other vision-impaired athletes.
That doesn't mean, however, that the dog will be running 26.2 miles. "He's only going to be helping me with my shorter, slower runs," Hunter explains, adding that Klinger has a collapsible water bowl that he's given water in halfway through the run and that he even has a specially designed vest for running that is comfortable for him and will allow Hunter to have control over him during the runs.
And when Klinger's done with his morning jog, he's spending time getting affection with Hunter's three daughters, who are 18, 14, and 9 years old. "He's the most loving German Shepherd I've ever met," Hunter says. "And it's amazingly humbling that his big purpose is to help me remain independent and keep me safe."
Hunter will continue to complete his longer runs with sighted guides. An advocate for vision-impaired athletes, Hunter launched United in Stride earlier this year. This website allows runners to volunteer to train with vision-impaired runners as sighted guides. He hopes, though, that eventually other vision-impaired runners will get dual-purpose guide dogs as well.
"Right after Thomas Panek first publicly wrote about this project, I was contacted by a woman with vision loss who said she was so excited that she didn't sleep a wink that night," Hunter says. "I hope more people get the same opportunity I got because people are putting themselves at risk of injury just doing what they love."
Top photo by Gregory Russo for Guiding Eyes for the Blind
Other photos by John Vecchiolla for Guiding Eyes for the Blind