A Beagle born with a heart condition typically only seen in human babies has a new leash on life thanks to a groundbreaking veterinary procedure.
Lilly Rose was born with a combination of multiple structural abnormalities in the heart. The condition in humans is called "blue baby syndrome," referring to the color babies turn from lack of oxygen in the blood. Although it occurs in five of every 10,000 human babies and is treatable in humans, it's very rare in dogs and has a poor prognosis.
Lilly lives under the care of an Iowa-based organization called Critter Crusaders, which provides medical care for animals without homes. Her owners had surrendered her earlier last year.
Determined to find a cure for Lilly, Jan Erceg of Critter Crusaders called the James L. Voss Veterinary Teaching Hospital at Colorado State University. "We wanted to go to the best we could find, and that was CSU," Erceg said in a press release. "It's all for this little dog. It's just so worth it—every mile, every penny."
The CSU team performed two procedures on the young dog—one back in September that involved installing a shunt to redirect the blood through her lungs so that it is more oxygen-rich when traveling through the body. This temporary fix helped Lilly survive to see her first birthday, which is rare for dogs with this condition if left untreated. Last month, the second procedure was performed—a three-hour surgery to implant synthetic tubing connecting Lilly's aorta to the pulmonary artery so that the blood would travel through the lungs a second time to pick up the oxygen needed.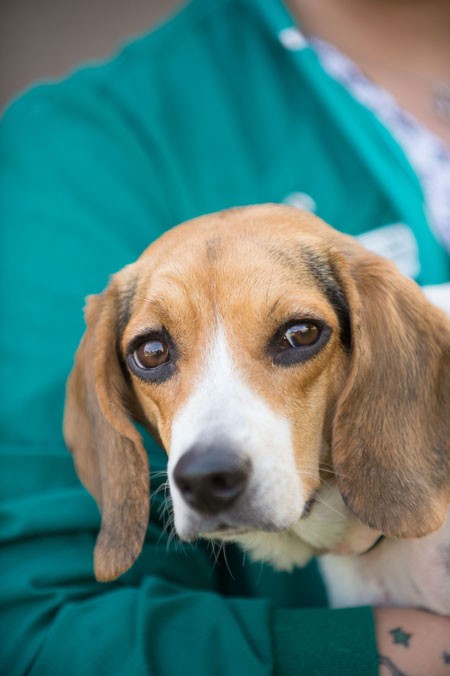 Caption: Lilly, the day after her lifesaving surgery (Photo by John Eisele/CSU Photography)
August 10, marked one month since the surgery was completed. And thanks to the team at CSU, who will likely be publishing a case study about Lilly Rose so that her situation may help other dogs in the future born with this condition (the treatment has only been written about in veterinary medicine once before and did not include follow-up). And as for the young puppy, she may have many more birthdays ahead of her.
"The dog came here blue and is going home pink," says heart surgeon Dr. Christopher Orton.
See the veterinary team talk about the procedures here: