Reprinted with permission from Dogs in Review and author Betty-Anne Stenmark, from the February 2015 issue of Dogs in Review magazine.
By Betty-Anne Stenmark
I think it is unfortunate that not all parent clubs have an open membership policy. I realize there are legitimate reasons for this, just as there are good reasons for openness. My own parent club is not entirely open, although the membership policy has relaxed somewhat in recent years. Many people view the purebred dog world as elitist, and I don't think that serves us well with the general public. If we are to see our sport grow, we must be more welcoming.
The parent club is the best source of information about a breed. In doing some research for this column, I looked at a few parent club websites and was impressed with what the Golden Retriever Club of America (GRCA) offers. If this is what just the website offers, I can only imagine how much more is available to members. The club even has a "join" button prominently displayed on the banner across its website. Good for them! With a welcoming attitude like this, there is little mystery why Golden registration numbers and show entries remain strong. Entries at the Golden National Specialty hover around 1,000 year after year.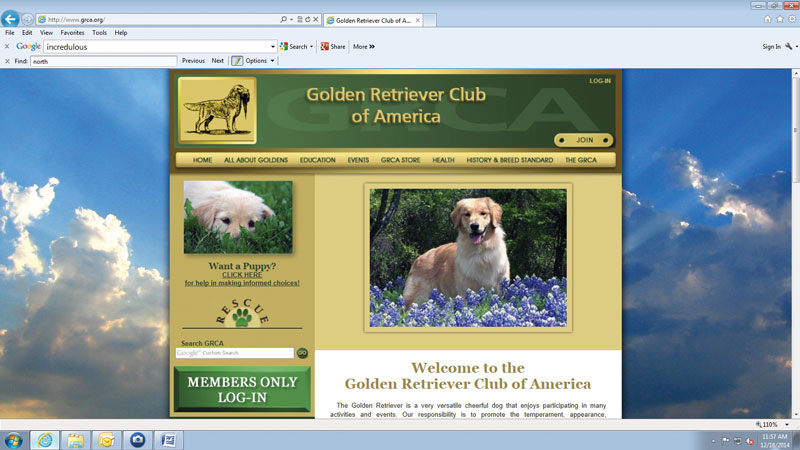 The Golden Retriever Club of America website is very welcoming, highlights the versatility of the breed and has a prominently displayed "Join" button.
The website opens with a welcome statement from the club. It says, "The Golden Retriever is a very versatile cheerful dog that enjoys participating in many activities and events. Our responsibility is to promote the temperament, appearance, soundness, natural retrieving and hunting abilities of the Golden Retriever. Our members are dedicated to the responsible breeding and ownership of the Golden Retriever. We advance and protect the interests of the breed through events, education, The Golden Retriever Foundation, research and Golden Rescue." After reading that, it makes me want to own a Golden Retriever!
The stalwarts and guardians of the breed belong to the parent club. Mentors abound, and if you are looking to learn more about your breed, the breed club is definitely the place. You can rub shoulders with the giants in your breed, hear first-hand what they thought of those dogs back in your pedigrees, hear about what they actually looked like and how they moved, and what they passed on to the next generation, both positive and negative. Ignorance is not bliss in the breeding of purebred dogs, so this information is vital.
The GRCA website does an excellent job of highlighting the versatility of the breed and all the performance events sponsored by the club that are open to all. Membership in parent clubs runs the gamut from the owner of an altered pet to the breeder of competitive dogs at the national level. There is something to interest everyone.
The national specialty is the annual reunion of friends and fanciers of the breed. It is exciting to attend; the atmosphere is electric and the anticipation keen. Maybe a new star will emerge — a worthy dog to incorporate into a breeding program — and you're there to see it all first hand.
I have a hard time taking someone seriously who breeds and shows but doesn't make it a point to attend the national specialty as often as possible. While your star may look wonderful trotting around your garden, it is important to see how that star compares against the others in his or her class at the national. Judges adjudicate by comparison. Breeders judge by comparison, too, first in the whelping box, and then observing their breeding stock as compared to the efforts of others.
As a young woman growing up in British Columbia, I waited impatiently for the monthly issue of The Saint Fancierto arrive at my door. Oh, how I wished I could be more than just a member, but living in Canada, that was all that was possible. However, it didn't stop me from attending the Saint Bernard Club of America National Specialty every year, and at the 1974 specialty in Kalamazoo, Mich., I met Roy Stenmark. The two judges, Larry Powell and John Stanek, had overdrawn, and Roy had been brought in to do the overload, 48 specials in Best of Breed competition, his first-ever assignment. As he liked to tell the story, I bombed out of the ribbons and took home the judge. I'll bet you didn't know you could find romance at the National Specialty! And when I moved to the United States, I became the editor of The Saint Fancier. That was such good fun.
Volunteering at the National Level
Dog clubs don't run themselves, people do. Volunteers do. For those not long in the sport, there are countless jobs at national specialties that don't require expertise, including crafting and gathering items for the auction, organizing a raffle, hosting the morning breakfast, helping in the hospitality suite, soliciting catalog advertising and trophy donations, setting up the trophy table, etc. For those with experience in performance events or conformation, there are many jobs: finding the appropriate venues for the events, putting together the premium list, setting up the showgrounds, finding knowledgeable stewards, coordinating the judges' transportation and hospitality, setting up and coordinating the seminars for breeders, as well as judges' education, and dozens more jobs of this sort.
Clubs like the GRCA have a large membership and a wealth of people to step forward and fill all the necessary jobs. Clubs like my own, the Dandie Dinmont Terrier Club of America (DDTCA), have a declining membership and fewer and fewer knowledgeable members willing to step forward and chair such an event. I am sure there are many clubs in between. Think about your level of involvement and realize that it is up to you to step forward and offer to help. The jobs cannot be left to the same people year after year. As that group of workers grows older, they need help and your willingness to take on more and more. Those who have worked tirelessly for the club should one day sit ringside and just enjoy the show.
Local Specialty Clubs

Everyone is welcome to attend Golden Gate Greater Swiss Mountain Dog Club events, like this annual End of Summer weekend in Sonoma. The club was able to grow its membership numbers through communication, events and providing a positive atmosphere. Photo courtesy Robert Blits.
At our Del Valle show, the Golden Gate Greater Swiss Mountain Dog Club (GGGSMDC) booked 30 RV spaces together and had created a Swiss village. There was a saloon-like bar setup, tables put together for dining, a special photograph area, and every ex pen had a special Swissy logo on it. I was incredulous and envious as well. After seeing this, who wouldn't want to be a part of the club?
I asked Toni Killpatrick, the GGGSMDC Show Chairman, how the club created this level of interest and involvement. In these times of diminishing interest in local breed clubs, with many clubs being reduced to one active member who does all the work, it was obvious something special had happened.
Toni said that in October 2011, some old timers and new Swissy owners were talking after the specialty in Pleasanton. The older members lamented that no one was doing anything to keep the club going, and a few newbies asked why they hadn't been invited to join the Golden Gate Greater Swiss Mountain Dog Club yet. "Right then and there, we made a plan," Toni said. "We decided to take leadership, have a few events to entice new members and supercharge our sleeping newsletter, The Blaze. We were going to resurrect a new, fantastic Golden Gate Greater Swiss Mountain Dog Club."
Immediately the club publicized events and planned more. The Blaze newsletter was filled with new letters, new members, educational pieces, celebrations and future events. Many attended the 2012 Morris Foundation Cancer Walk in Elk Grove, the May Cinco de Mayo Picnic, play day, pack hike introduction, Walk n Talk on the beach and the Halloween Swissy Parade at Del Valle.
"The goal was to have a club of people who actually know, like and support each other," Toni said. "So, we held handling classes for new owner-handlers. At shows, we help each other groom, practice showing and even take each other's dogs in the ring if the need arises. We invited folks who don't have a Swissy yet to join us at get-togethers. No one is a stranger, and we make sure everyone feels welcome and comfortable asking questions. We get together for drafting and packing weekends, learning from our own experts and then trying what we learn with our Swissys. The Western Regional Specialty in October is our chance to get creative, play with each other and celebrate our dogs. We celebrate each year with an End of Summer Weekend in Sonoma, where 30-plus Swissys run together in the vineyard. Our members know that conformation is only one way to work our dogs — there is herding, drafting, weight pulling, therapy training, tracking, agility, obedience, rally and even being a reading dog or ringing the bells for the Salvation Army at Christmas."
Toni says that communication is the key to their recent success. The club uses the newsletter, website and Facebook page so members can post and ask questions of each other. "We found that our membership grew from 21 households, six individuals and five associates in spring of 2012 to a strong membership of 98 today. We feel like we are a close, growing family."
Two years ago Del Valle changed the format from a full day of independent specialties to a full day of designated specialties under the Del Valle umbrella. For the clubs with plenty of working members and large entries, this change was met with mixed reviews, but for those many clubs that were almost bankrupt, with few members and even fewer workers, this change has put a necessary prop under them. It is my hope that some of these ideas will help renew interest in clubs, both national and local.