Local AKC dog clubs and AKC Pet Disaster Relief, a national program spearheaded by AKC Reunite that is dedicated to keeping pets and their owners safe in the aftermath of tornadoes, floods, wildfires and other natural or civil disasters, presented three trailers in the state of California to officials from the County of San Diego Department of Animal Services on Saturday.
The purchase of the trailers was made possible by more than $65,000 in donations and grants from the members of Silver Bay Kennel Club of San Diego, Del Sur Kennel Club, Bahia Sur Kennel Club of Chula Vista, Cabrillo Kennel Club, Hidden Valley Obedience Club, The Obedience Club of San Diego County, Inc. and AKC Reunite, the nation's largest non-profit pet identification and recovery service.
"Safe, effective pet sheltering solutions in times of disaster are incredibly important, and AKC Reunite is helping communities across the nation prepare by mobilizing AKC Pet Disaster Relief," said Tom Sharp, AKC Reunite CEO. "The trailers donated would provide animal care services during the first critical hours if a disaster ever hits San Diego County or surrounding areas."
Do you remember the pets in despair after Katrina, or the plight of pets displaced from their families in Missouri and Oklahoma after those states were hit by epic tornadoes? With AKC Pet Disaster Relief, San Diego communities will now be prepared to roll out help to pets and their owners in need when a disaster is declared, whether it's a wildfire evacuation, an earthquake response or the unthinkable.
AKC Pet Disaster Relief trailers help to create a safe, temporary home-base for at least 65 pets immediately after a disaster is declared. The trailers house and deliver essential supplies such as fans, lighting and generators; cleaning supplies; maintenance items; and animal care items including crates and carriers, AKC Reunite microchips and an AKC Reunite universal microchip scanner, as well as bowls, collars and leashes. These supplies can be used as co-location shelters, where people can evacuate with their pets, as well as emergency animal shelters for displaced animals
"The AKC dog clubs in the San Diego area want to help our local community and its pets be prepared for any disaster and its aftermath," said Del Sur Kennel Club Delegate Andrew G. Mills. "We are all very proud to donate these trailers to the County of San Diego Department of Animal Services to assist in the agency's future disaster response efforts."
Donations also came in from American Kennel Club dog breed clubs with members nationwide, including the American Tibetan Mastiff Association, Pembroke Welsh Corgi Club of America, Tibetan Terrier Club of America, English Springer Spaniel Foundation, Spinone Club of America, Collie Club of America, Schipperke Club of America Rescue & Health Foundation, Borzoi Club of America, American Shih Tzu Club, The Vizsla Club of America, Australian Terrier Club of America and Western Fox Terrier Breeders Association.
Dan DeSousa, Deputy Director for the County of San Diego Department of Animal Services said, "These new trailers will allow us to set up extensive emergency shelters to assist pet owners during future natural disasters. We're excited about our improved ability to care for our county's pets and thank the members of our local dog clubs and other donors for their efforts in helping us acquire AKC Pet Disaster Relief trailers."
Individuals, corporations and other interested parties can donate to trailer projects in local areas or across the country. Donations are tax deductible and accepted at http://www.akcreunite.org/donate. Approved organizations that raise a minimum of $1,000 will have their logo featured on the AKC Pet Disaster Relief trailer.
Learn more about how to get involved in AKC Pet Disaster Relief at www.akcreunite.org/relief.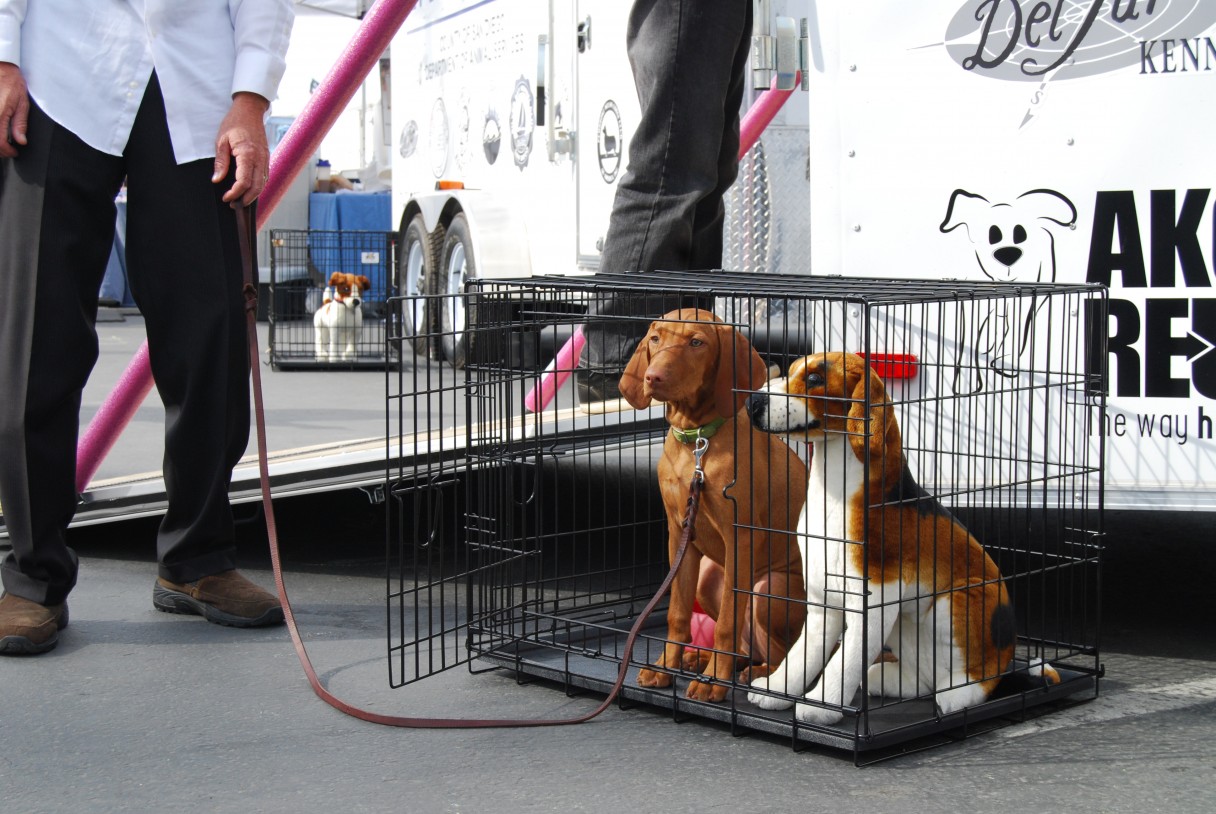 A Vizsla tests one of the crates that stock the AKC Pet Disaster Relief trailer.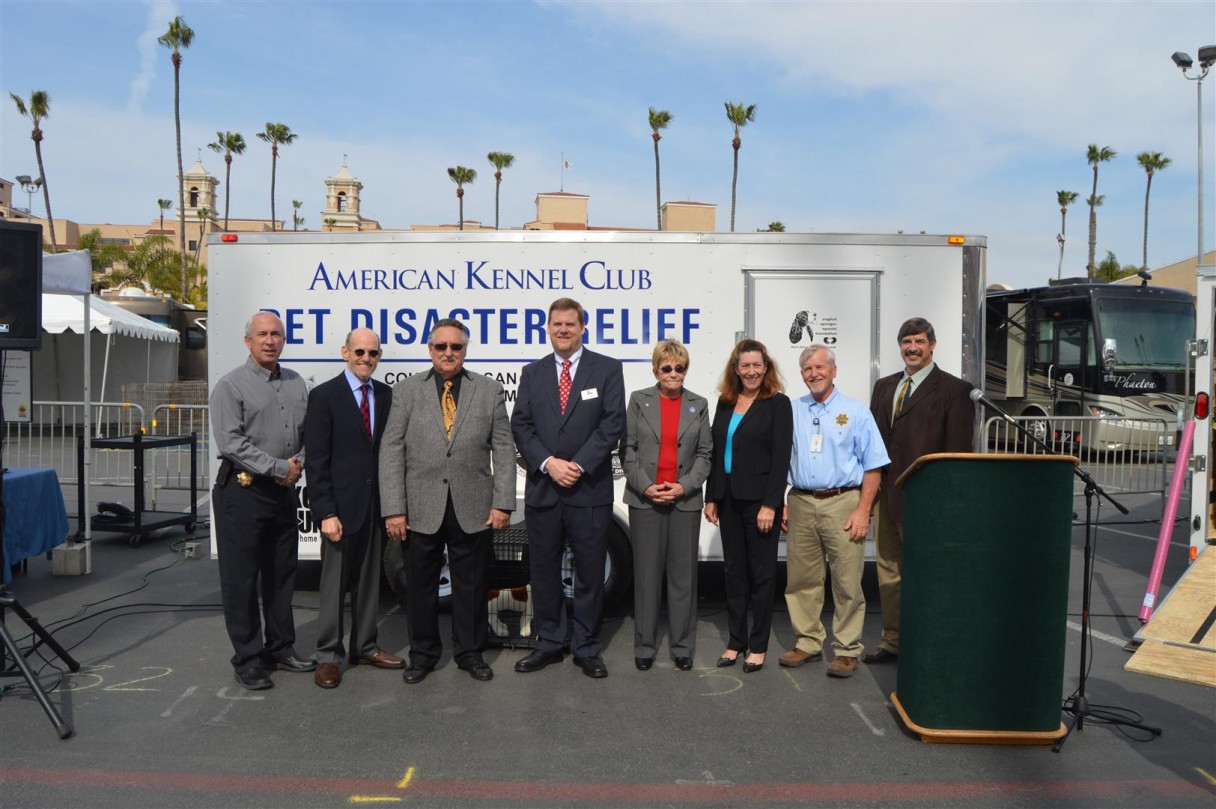 From the Left to Right: Dan DeSousa, Deputy Director- County of San Diego Department of Animal Services; Alan Kalter- AKC Board of Directors; Gene Mills- Delegate for the Del Sur Kennel Club; Tom Sharp, CEO of AKC Reunite; Dawn Danielson, Director of County of San Diego Department of Animal Services; Lauren Joniaux, Deputy Director of County of San Diego Department of Animal Services; David Johnson, Deputy Director – Medical Operations of County of San Diego Department of Animal Services; Harold Holmes, Deputy Director of County of San Diego Department of Animal Services