This year the AKC Rally program is celebrating its 10th anniversary. The AKC Companion Events department rolled out the upbeat obedience-oriented sport to great fanfare in 2005.
A new AKC sport isn't born every day, or even every decade. Before a dog sport can become a titled AKC event, it must stand up to a stringent approval process. It can take years for staff to develop program suitable for final approval by the AKC board of directors.
During AKC Rally's long period of development, staff members became increasingly excited by the sport's possibilities. "My enthusiasm came from the dog owners already involved in rally," Patricia Krause told AKC Family Dog in 2005. Today a busy AKC judge of obedience and rally trials, in 2005 Krause was the AKC assistant vice president tasked with satisfying the desire among dog-sport competitors for a new challenge. "They were so emphatic about how much fun the sport is, it carried over to us in Companion Events."
Rally is the brainchild of Charles "Bud" Kramer, of Kansas City, Missouri. With Kramer's blessing, Krause and her staff spent four years refining the rally concept: "We would have test sessions in the parking lot of the AKC Building in Raleigh," Krause recalled. "We'd bring our own dogs, set up signs, and run different exercises, trying to decide what would work and what wouldn't. It took a long time to be satisfied we had a sport agreeable to dogs of all breeds and people of all ages."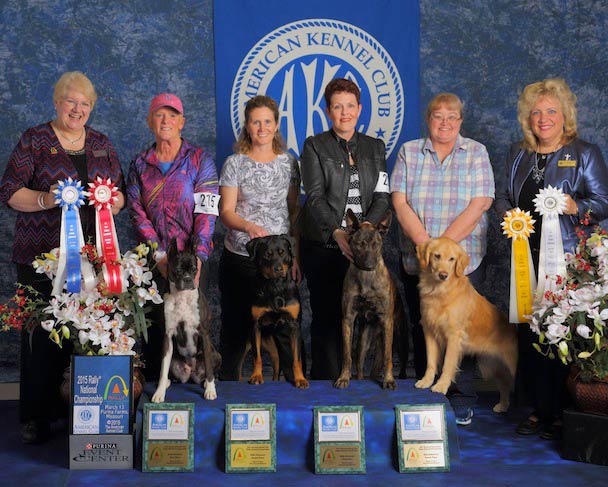 The long days of trial and error paid off when the board granted approval in 2004 for AKC Rally to begin on January 1, 2005. Clubs vied for the honor of being the first to give an AKC Rally event. Some scheduled their first rally events for 12:01 a.m. on New Year's Day.
Auld Lang Sign
What is it about AKC Rally that would compel so many people to spend New Year's Eve heeling their dogs instead of swilling champagne?
First, a few basics. In AKC Rally, a dog-and-handler team negotiate a course of exercises according to sequentially numbered signs, in a manner similar to rally auto racing. The team works at its own pace, with the dog heeling from sign to sign.
Each sign contains a pictograph that illustrates a particular exercise. There are 50 exercise signs that judges choose from to design courses unique to each trial. The number of required exercises can increase with each level of competition: Novice, Advanced, and Excellent.
In Novice, all exercises are performed on leash. The Rally Advanced and Rally Excellent classes include exercises that are more challenging, and these classes require that all exercises be performed off leash. After saying "Forward" to start the run, the judge steps back and allows the dog and handler to work through the course, one team at a time. Scoring is on a 100-point scale; the time of the run is used as a tiebreaker.
Rally differs from traditional obedience competition in several ways, the most noticeable being that a handler may use hand signals, verbal encouragement, and generous applications of body language to urge their dog through the course. All dogs—purebred or mixed, spayed or neutered—are eligible to compete. Rally offers four AKC titles: Rally Novice (RN), Rally Advanced (RA), Rally Excellent, and Rally Advanced Excellent (RAE).
Rally Good Time
AKC Rally puts the accent on fun, for competitors and spectators alike. But it also helps dog and handler gain confidence in a competitive environment. AKC newcomers who begin in rally can acquire the confidence to try competitive obedience, agility, or tracking.
Here, AKC Rally handlers demonstrate their dogs' skill and discuss what draws them to this challenging, enjoyable, and inclusive dog sport: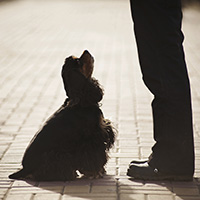 The Five Commands Every Dog Should Know
Do you want a well behaved dog but don't know where to begin? The Basic five commands e-book is a great place to start and will give your dog a strong foundation for future training.