AKC Pet Disaster Relief, a national program spearheaded by AKC Reunite and AKC dog clubs that is dedicated to keeping pets and their owners safe in the aftermath of tornadoes, floods, wildfires and other natural or civil disasters, just presented the first emergency trailer in Massachusetts to officials from the Springfield Office of Emergency Preparedness in a ceremony held at the Eastern States Exposition.
AKC Pet Disaster Relief trailers help to create a safe, temporary home-base for at least 65 pets immediately after a disaster is declared. After recent tragedies like the 2011 tornadoes, emergency preparedness has become even more important. With AKC Pet Disaster Relief, the Springfield area will be able to effectively help the pets and their owners affected by such disasters in the future.
The purchase of the trailer was made possible by more than $22,000 in grants from AKC member dog clubs from the Northeast that host their events at the Eastern States Exposition grounds. Contributors included Eastern States Exposition, Springfield Kennel Club, South Windsor Kennel Club, Windham County Kennel Club, Holyoke Kennel Club Troy Kennel Club, Albany Kennel Club, Queensboro Kennel Club, Riverhead Kennel Club, Eastern English Springer Spaniel Club, Eastern Dog Club, Farmington Valley Kennel Club and AKC Reunite, the nation's largest non-profit pet identification and recovery service.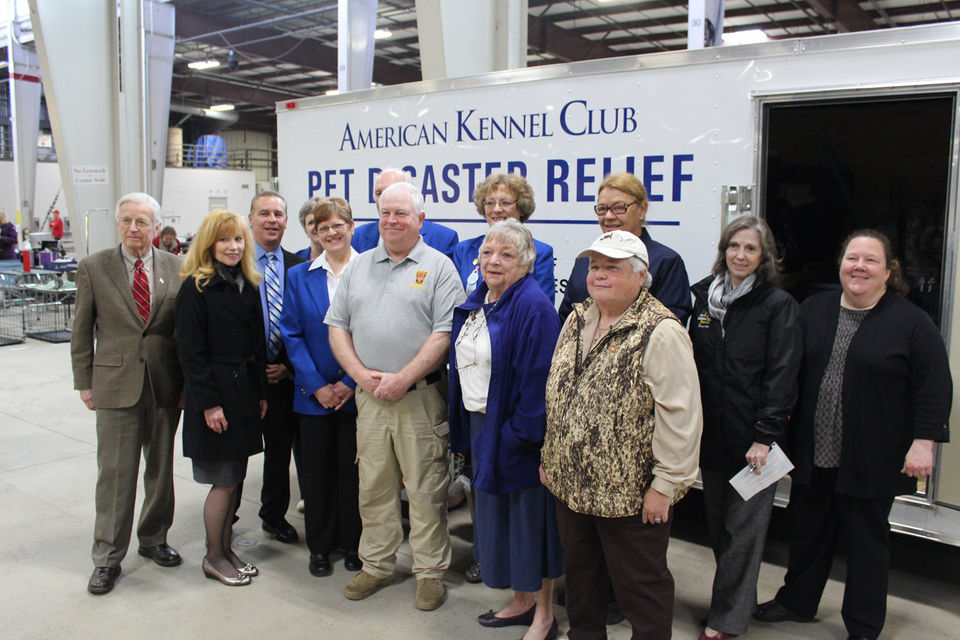 Springfield's AKC Pet Disaster Relief trailer, via Masslive.com. Read more here.
"This trailer donated today will provide animal care services during the first critical hours if a disaster ever hits Springfield or the surrounding areas," said Tom Sharp, AKC Reunite CEO. "Safe, effective pet sheltering solutions in times of disaster are incredibly important, and AKC Reunite is pleased to help communities across the nation prepare by mobilizing AKC Pet Disaster Relief."
The trailers house and deliver essential supplies such as fans, lighting and generators; cleaning supplies; maintenance items; and animal care items including crates and carriers, AKC Reunite microchips and an AKC Reunite universal microchip scanner, as well as bowls, collars and leashes. These supplies can be used as co-location shelters, where people can evacuate with their pets, as well as emergency animal shelters for displaced animals.
"American Kennel Club dog clubs are dedicated to keeping the pets in our community happy and healthy. We recognized AKC Pet Disaster Relief as a new way to accomplish this goal, and our members jumped at the chance to bring this important new resource to Springfield," said Dr. Thomas M. Davies, AKC Delegate from the Springfield Kennel Club.
"This new trailer will allow us to set up extensive emergency shelters to assist pet owners during future natural disasters," said Bob Hassett of the Springfield Office of Emergency Preparedness. "Thank you to these AKC dog clubs, Eastern States Exposition and AKC Reunite for helping us offer a safe place to house our pets during emergencies."
Individuals, corporations and other interested parties can donate to trailer projects in local areas or across the country. Donations are tax deductible and accepted here. Approved organizations that raise a minimum of $1,000 will have their logo featured on the AKC Pet Disaster Relief trailer.
Learn more about how to get involved in AKC Pet Disaster Relief here.