On March 10, the Colorado House and Senate passed Joint Resolution 15-1015, making Colorado the first state to officially designate May 1 as National Purebred Dog Day.
The resolution was introduced to coincide with the Colorado Federation of Dog Clubs' annual "Dog Days" at the Capitol in Denver. Purebred Dog lovers, celebrity show dogs, and members of Colorado kennel clubs gathered to share with legislators the special value and contributions of purebred dogs in society.
Susi Szeremy of Colorado, and creator of the National Purebred Dog Day movement, was in Capitol chambers when the resolution passed. "I developed the concept of National Purebred Dog Day when I realized that there was no single day devoted to celebrating these amazing breeds."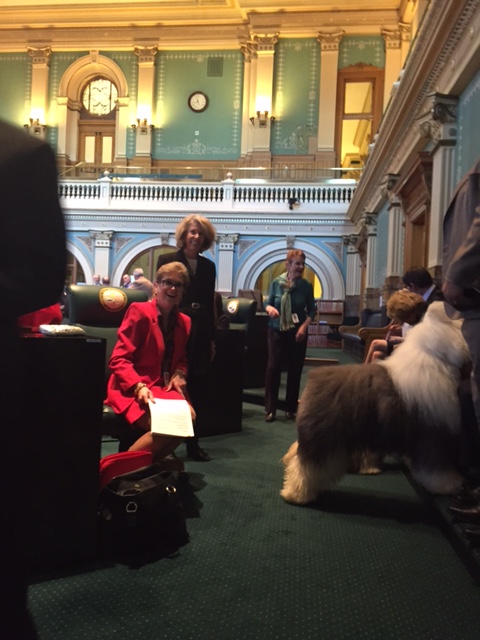 Old English Sheepdog Swagger, who won Reserve Best in Show at Westminster works the room at the Colorado Legislature. (Picture/ Szeremy)
Szeremy noted that the purpose and predictability of every breed is one of the things that makes purebred dogs uniquely valuable to humans. "Purebred dogs were created to work alongside man and provide companionship. Today they serve in a wide variety of roles including guide dogs and service dogs, search and rescue dogs in both natural disasters and acts of aggression, conservation dogs, police and military dogs, trackers, hunting dogs and herders – and always, these dogs have been companions, helpers and guardians of family and home."
Szeremy started the effort in late 2013 with a Facebook page that quickly gained support from over 38,400 "Facebook friends" as well as a Kickstarter campaign that exceeded its goal within weeks.
As May 1 approaches, Szeremy is looking forward to National Purebred Dog Day as a way to increase awareness through social media of the value and importance of our purebred dogs. Far from being a one-time event, Szeremy and the AKC GR team hope to make this an annual national celebration of responsible breeders and the value of all our wonderful purebred dogs. "We applaud Susi's leadership on the Purebred Dog Day Initiative. This special day reminds us of our special bond with these purpose-bred dogs with predictable characteristics, and it's an inspiration for all dog lovers, said Dennis Sprung, AKC President and CEO. "We're looking forward to a bright future for Purebred Dog Days throughout our country and a renewed spirit of recognition and pride of purebred dogs."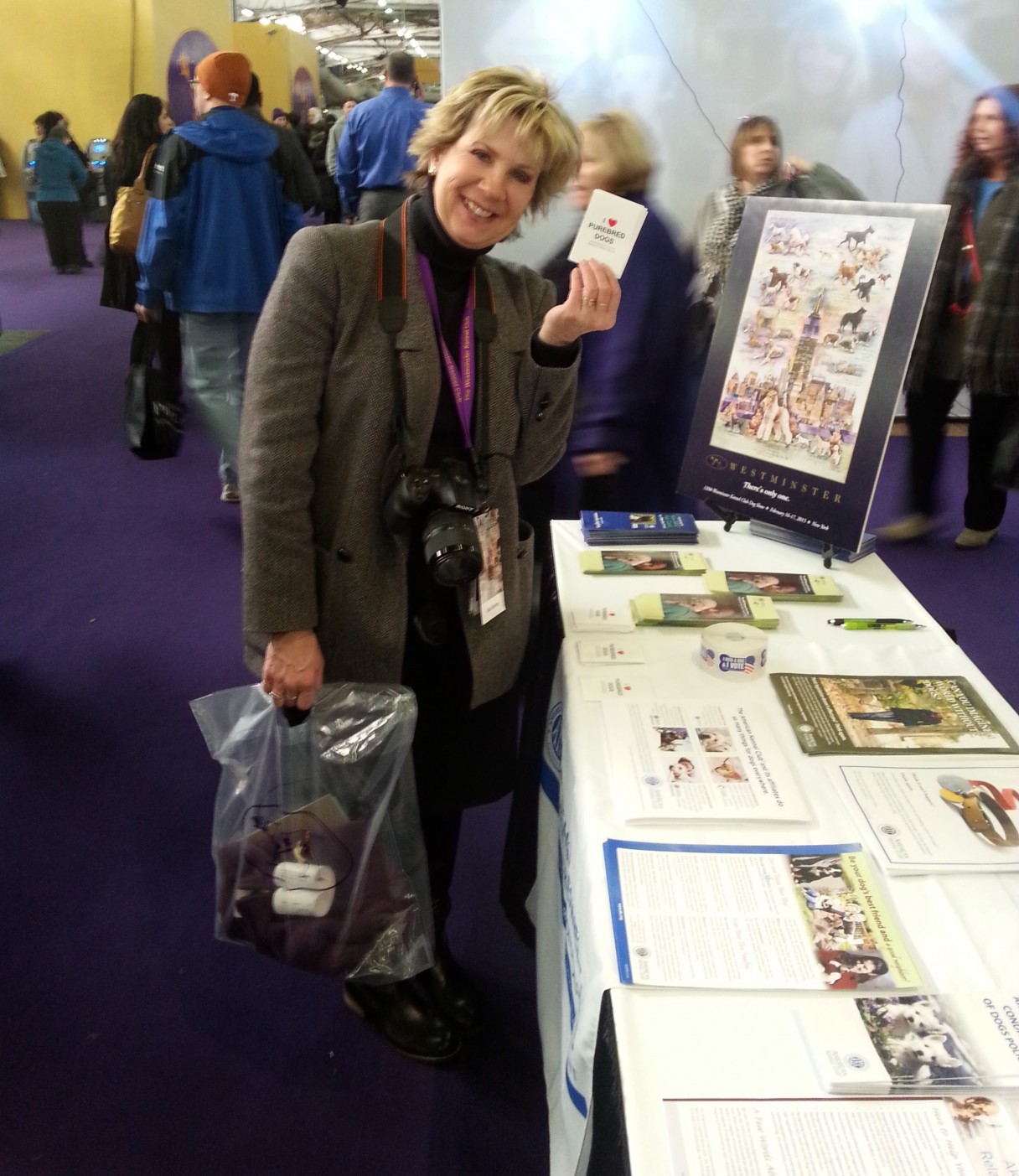 Suzy Szeremy, shows her support for Purebred Dog Day at Westminster Kennel Club (picture/ Goffe)