Three of the five heroic canines who were recipients of this year's AKC Humane Fund Awards for Canine Excellence (ACE) received special presentations of recognition at the AKC National Championship Presented by Royal Canin on Dec. 17.
These awards celebrate loyal, hard-working dogs that have significantly improved the lives of their owners and communities. One award is presented in each of the following five categories: Uniformed Service K-9, Service, Therapy, Search and Rescue and Exemplary Companion dog.
"The heartwarming stories of the five ACE award winners exemplify the loyalty, commitment and companionship dogs give us," said AKC Spokesperson Gina DiNardo. "Whether providing comfort or saving lives, each of these dogs has in some way improved the lives of others and the impact they have made on their community is truly inspiring."
Three of the five ACE winners who were recognized on Dec. 17 are:
Service Dog: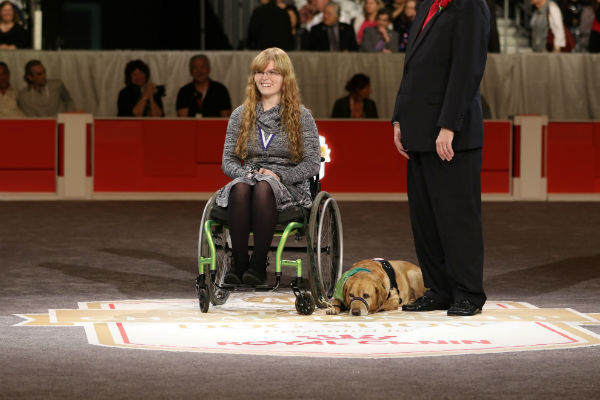 "Teddie" is a five-year-old Labrador Retriever certified with Canine Partners for Life. She is the service dog for her owner, Krystal Greco. Krystal suddenly became paralyzed from the waist down at age 14. Unable to attend school regularly, the housebound teenager began feeling depressed, isolated and lonely. Krystal contacted Canine Partners for Life in mid-2012 and Teddie came into her life the following year. Teddie does everything from opening and closing doors to alerting Krystal, who cannot feel anything below the waist, when she might need to use the bathroom. With Teddie's help, Krystal has earned three college associates degrees, works a part time job, travels and volunteers as a spokesperson and demonstrator for Canine Partners for Life. This fall Teddie will be by Krystal's side as she begins her baccalaureate degree at Maryland University College.
Search and Rescue Dog: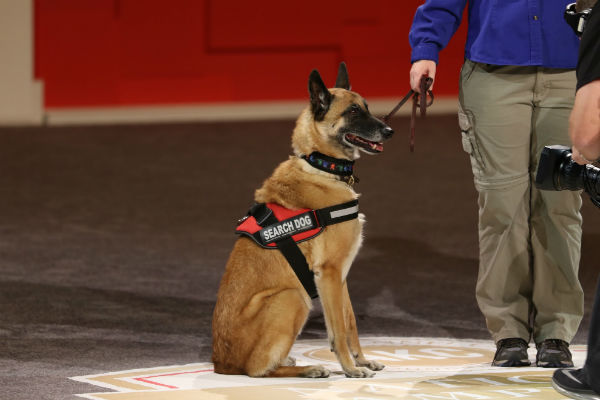 "Bodie," an eight-year-old Belgian Malinois, is among the small circle of search-and-rescue dogs trained and certified in three distinct disciplines: article search, trailing, and human-remains detection. Bodie and his handler, Amy, have assisted local and federal law-enforcement in Southern California, Nevada, Arizona and Utah for the past seven years. Whether they are working in the sweltering desert heat or in bustling cities, this duo keeps very busy, averaging 20 searches per year along with several hours of training. "He has quite the reputation for all the kisses he gives," his nominator, Randy Thomsen, says, "and there have been many officers that have finished their shift with Bodie fur on their uniforms from the loving lean he does whenever he meets someone."
Exemplary Companion Dog: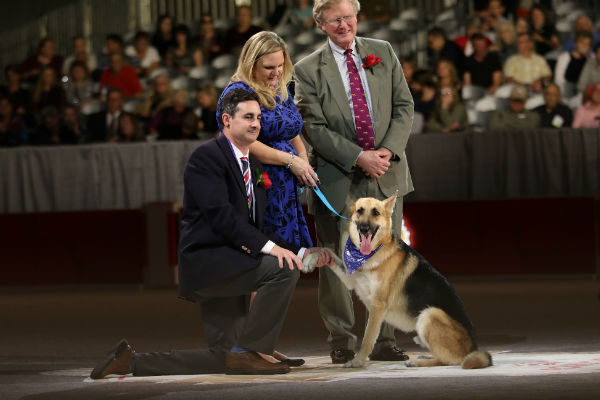 "Haus," a two-year-old German Shepherd Dog, owned by the DeLuca family of Tampa, Florida, fought for his life after stepping between seven-year-old Molly DeLuca and a rattlesnake. Haus was in the backyard with Molly and her grandmother when Mrs. DeLuca saw the dog jump several times but still stand his ground. She saw blood coming from Haus and he began limping and crying and she quickly realized it was a rattlesnake that he was facing. Veterinarians identified three snake bites on Haus, who was injected with substantial amounts of venom; so much that he needed a steady drip of antivenin, instead of the more common one to two doses. Haus was in intensive care, his life on the line, after faithfully protecting the little girl. He was able to recover from his injuries and returned home to the DeLuca family. Mrs. DeLuca is extremely grateful that Haus was there to protect her daughter from what could have been a deadly incident.
All of the ACE recipients will receive $1,000 to be awarded to a pet-related charity of their choice and a one-year pet insurance policy from AKC Pet Insurance.
The ACE Award Winners in the Uniformed Service K-9 and Therapy categories will be recognized Dec. 18, prior to the Best in Show decision. Make sure to catch all of the action on our livestream, available at 6pm on AKC.org.