The future looked grim for the young stray when she came into the Kirby Animal Shelter in Texas in February 2015.
The 75-pound, tan-and-white pit bull, who the shelter named Kiah, had been found wandering around behind a supermarket, a huge wound on her head. It didn't seem as if there was much hope for her.
But Kiah surprised everyone.
Amazingly, this once unwanted, abused dog is now in the final stage of training as a drug-detection K9, working for a police department half a continent away from that Texas supermarket where she might have died.
A Rare Find
Shelter workers were immediately impressed by Kiah's sweet disposition. But once she was on the mend and gaining strength, they began to notice something else, something very special, about this dog.
That's when they contacted in Brad Croft, of Universal K9 in San Antonio. Croft has trained crime-fighting canines for police departments all around the country and had gotten 15 dogs from KAS in the past. He is now working in collaboration with Austin Pets Alive! and Animal Farm Foundation (AFF), in Dutchess County, New York, a not-for-profit organization devoted to fighting misconceptions and discrimination against pit bulls.
The shelter called and told Croft, "You need to get over here and see this dog."
It didn't take long to figure out why they had contacted him.
"It's very rare that you run across dogs like her," Croft says. "She's one in a billion."
Ball Crazy
There's a quality possessed by all great working dogs. You see it in the show champion who captures every eye in the arena, or in an agility star who flies through the course with little human guidance, and in the search-and- rescue dog who won't give up, no matter what.
This quality is known as drive, an intense energy and laser-sharp focus on the task at hand. Dogs who excel in sports, hunting, and jobs like drug detection or search-and-rescue are said to have "high drive." They can't stop working.
Kiah was "way wired," as the shelter put it, the highest-drive dog Croft had seen in his decade as a trainer.
"A lot of dogs, I find, have some of this drive," Croft says, "but not like Kiah had it."
Even more impressive, the quality was born in her. With many puppies destined for jobs, breeders nurture drive through games and training exercises.
"These things were in Kiah. Nobody put them in there," he says.
Croft screens candidates to see if they have the right stuff for police work. In addition to drive, he looks for an ability to bond with people and a stable temperament, a dog who won't be spooked by loud noises and commotion.
Those dogs who pass the initial screen go home with Croft for a week of additional assessment.
"In the first week, I can tell whether they are going to make it," he says. "She was go."
It was her obsession with tennis balls that impressed him most. She'd play fetch until she dropped, and if you hid the ball, she would not stop looking for it. Teaching her to associate the scent of narcotics to the ball was a cinch.
Croft had her trained as a drug sniffer in a month.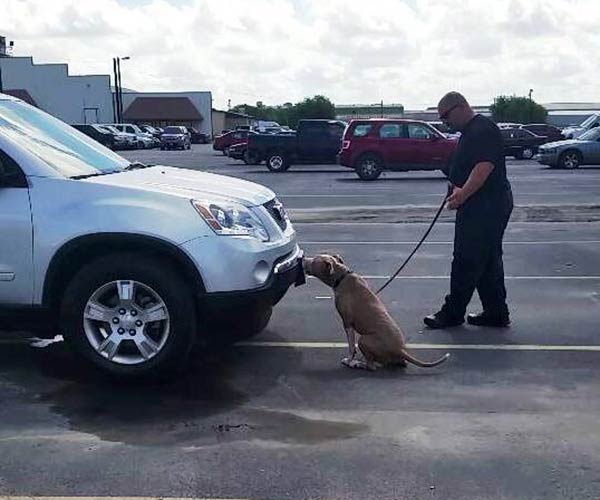 Officer Kiah
She was soon ready for the next step on her road to crime fighter—finding a human partner.
AFF reached out to the City of Poughkeepsie, New York, Police Department. AFF works with Universal K9 to offer trained pit bulls free of charge for law enforcement. Croft trains the dogs and handlers, and AFF offers additional training support and covers expenses.
Bernice Clifford, AFF's director of behavior and training, says that in addition to police dogs, AFF trains and places pit bulls as pets and assistance dogs. To date, AFF and Croft have teamed up to place seven canine crime fighters, all pits, and all are doing well.
"I like pit bulls because they are sweet friendly dogs," Croft says. "They like a lot of loving. It doesn't take much to get them to want to play with you."
First Impressions
Kiah's potential partner, Officer Justin Bruzgul, of the City of Poughkeepsie Police Dept., traveled to San Antonio in July. He was pleased with what he saw.
"Kiah is a ball of energy and you can tell when you first meet her that all she wants to do is work," the officer says.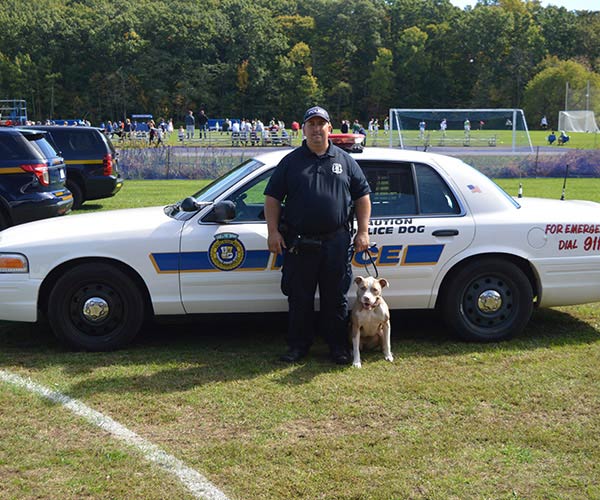 We'll never know what happened to Kiah, how she wound up behind that supermarket with a gaping wound in her head. But we do know that there are good things in store for this once down-on-her-luck dog. All that's left to remind her of her past ordeal is big scar on the top of her head.
"I truly believe the future for Kiah and I will be amazing," Bruzgul says. "We will have no problem making our community a safer place and showing everyone that 'pit bull' dogs are just as good as any other dog. I am hoping that our story will open the door for other law enforcement departments and they will consider utilizing 'pit bull' dogs for police work."