By Jo Quintenz, PBGVCA
The Board of Directors of the Petit Basset Griffon Vendeen Club of America (PBGVCA) initiated a philanthropic program in conjunction with the 2015 National Specialty recently held in Tucson, Arizona. The goal of this program was to identify an animal charity in the host city and to make a contribution in support of the goals of that charity.
The Save A Life Foundation is a charitable foundation affiliated with the Tucson Fire Department. Andy Trujillo, a Tucson firefighter and director of the Save A Life Foundation indicated that he was hoping to raise money to purchase resuscitation kits for more Tucson area fire stations. Animals rescued from fires that are in need of oxygen require special masks more suitable for their anatomical features. It was a goal of the Foundation to provide at least one kit to every fire station in the City of Tucson.
At the time PBGVCA first approached the Foundation, the club had the funds to provide kits to approximately four fire stations. When the PBGV Health and Rescue Foundation agreed to match the PBGVCA's contribution, Officer Trujillo was able to ensure that there was a resuscitation kit in every Tucson area fire house.
Officer Trujillo attended the Awards Program to accept checks totaling approximately $1500 from Gloria Swaine (PBGVCA treasurer) and Linda Murray (PBGV Health and Rescue Foundation President). PBGVCA intends to continue this new tradition in every city where a national specialty is hosted.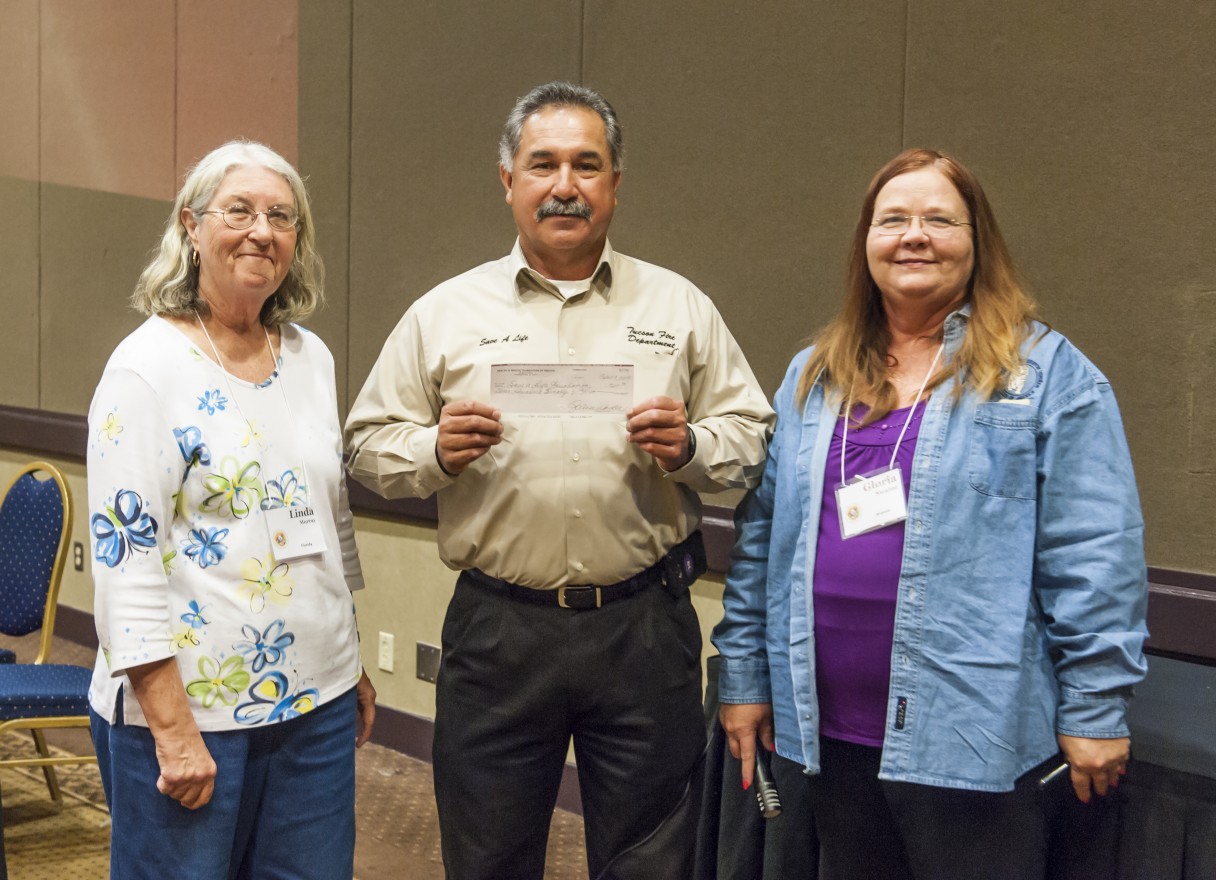 (L-R): Linda Murray (President of the PBGV Health & Rescue Foundation), Andy Trujillo (Tucson Fire Department, Save A Life Foundation) and Gloria Swaine (Treasurer, PBGVCA). The two organizations joined forces to purchase a number of pet oxygen masks for distribution to fire stations in the Tucson area. The presentation was made Friday, April 10, 2015. Credit: Photo by Bob Cohen.