It seems as though nothing can stop Hunter VanBrocklin. The active 10-year-old loves hiking, running, and adventuring. Unlike many other boys his age, however, he suffers from cerebral palsy, which he was diagnosed with at only 2 years old.
The condition causes drastic changes in muscle tone and leads to balance issues and other conditions, like hip dysplasia. Doctors predicted he wouldn't walk past age 7. But a lot of persistence and the physical and emotional support of his canine companion, a Great Dane named Wendy, have kept him on his feet. Wendy is Hunter's mobility dog, providing balance and stability while Hunter gets around. "She helps me walk, and she's with me all the time," Hunter told AKC.org. "She's like my best buddy."



Hunter was paired with Wendy when he was 7 ½ years old through the Service Dog Project, the Massachusetts-based organization also responsible for pairing media darling Bella Burton with her service dog, ACE winner George. Hunter was the youngest to be accepted by the organization, explains his father, Andy VanBrocklin.
Wendy, weighing in at over 100 pounds, helps Hunter by walking along his left side so that he can hold her harness. "She acts as a second railing for him," says Andy. "And if he falls, she gets in front of him faster than I can grab him." But thanks their successful partnership, that isn't a problem as much as it once was—Andy says Hunter has gone from falling as often as 500 times a day to only once or twice.
Equally important, Wendy helps Hunter stand more upright than he would if he were using walkers. "It took a year of retraining Hunter to walk because it changed the way he walked," explains Hunter's father, Andy. "But it stood him up taller, which was better."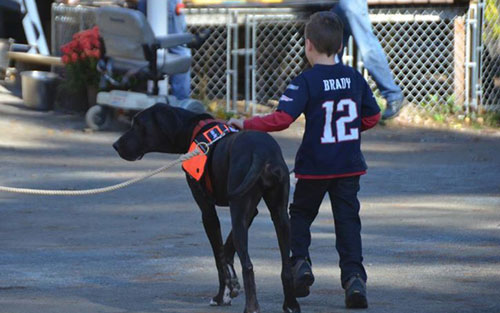 Because Wendy allowed Hunter to walk upright, he's gained strength in his legs and confidence. "His recent surgery was a lot less invasive than [doctors] originally thought it would be because he had been walking upright," Andy says.
After recovering from a surgery to treat hip dysplasia, he was able to return to school part-time this week. "Everyone was surprised to see me walking with Wendy and how well we were doing," he wrote on his Facebook page. He told AKC.org the kids in school seem to enjoy having Wendy in class. "She actually helps kids focus by just being her."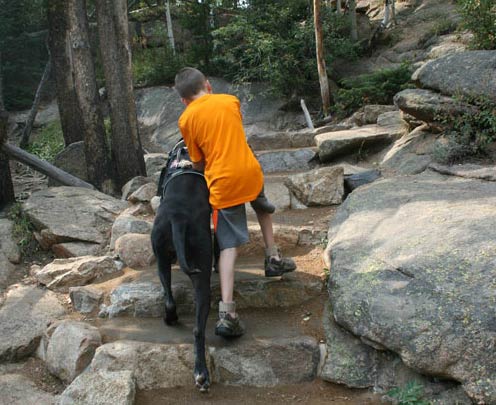 Wendy also gives Hunter a sense of independence—something young boys as adventurous as Hunter crave. "A lot of his friends feel he can do anything," Andy says. Recently, the VanBrocklins and Wendy took a family trip out west to the Rocky Mountains where they reached an elevation of 12,000 feet above sea level. "She helps a lot with the rough terrain because he's very unbalanced," Andy says. Hunter, who enjoy hiking, says he feels more comfortable having her there on his outings. "I know Wendy won't get stuck, and she's my guide," he says.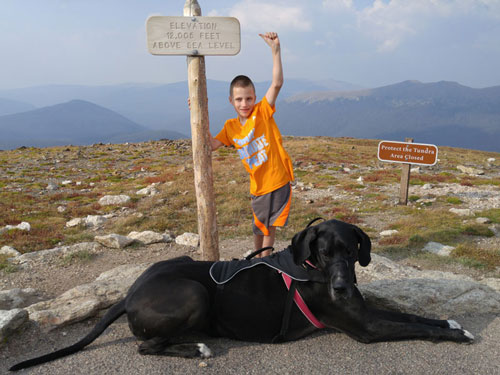 Hunter has a long way to go but he knows he can count on Wendy to help him continue an upward climb. "She loves her job," he says. "I hope to climb Mount Washington with her."

Related:
Award-Winning Service Dog Helps 11-Year-Old With Rare Disorder Gain Independence