The Kennel Club International Agility Festival reached a record number of agility classes when 2,700 dogs competed against the world's best at Rockingham Castle on Aug. 13-16.
The Festival, supported by CSJ Specialist Canine Feeds, was open to all dogs and included a number of competitions such as the Championship classes, where dogs competed to qualify for Agility Championships at Crufts, and a Special International Class for handlers to secure a place for the British Open Final, also held at Crufts. The quarter and semi-finals for the Kennel Club Agility Stakes allowed handlers to secure a place in the competition at the Kennel Club Olympic Agility Stakes in December.
"The International Agility was again a huge success," Kennel Club Secretary Caroline Kisko said. "We would like to thank everyone who has made it such a great event, especially those competitors and judges who have travelled such long distances to add to the international flavor of the competition.

"The festival has something for everyone, no matter what level of experience they have in agility, and we look forward to once again welcoming competitors from all over the world next year for the twelfth International Agility Festival."
The Festival's organizers also saw an increase in the level of competition this year.
"Another fantastic International Agility Festival from the Kennel Club at Rockingham Castle 2015. The standard of competition seems to get higher every year and it was wonderful to see the CSJ flags and banners everywhere," Ceri Rundle, managing director of CSJ Specialist Canine Feeds said. "A huge congratulations to all the qualifiers and a big thank you to all the organizers, helpers, handlers, visitors and superb dogs who helped to make it such a friendly, happy, and all-round successful event."
Click here to view the results from the International Agility Festival

Photo courtesy of Jess Clark.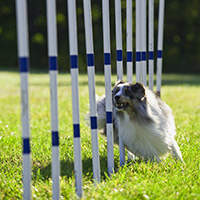 Agility for Beginners E-book
Are you looking for a fun new activity for you and your dog? Agility may just be the perfect option. In the "Agility for Beginners" e-book you will learn everything you need to know to get started.