By Susi Szeremy
Houstonites looking for a unique experience this week need look no further than their own city when over 12,000 dogs converge at NRG Park over five days to compete in conformation dog shows, agility, obedience, rally, All-Breed Weight Pull, fly ball competition, and new this year: Barn hunt and Creative Dog Grooming competition. On Saturday and Sunday, the public can "Meet the Breed" and discuss with breed experts the pros and cons of over 100 breeds on hand, from the rare American Hairless Terrier to favorites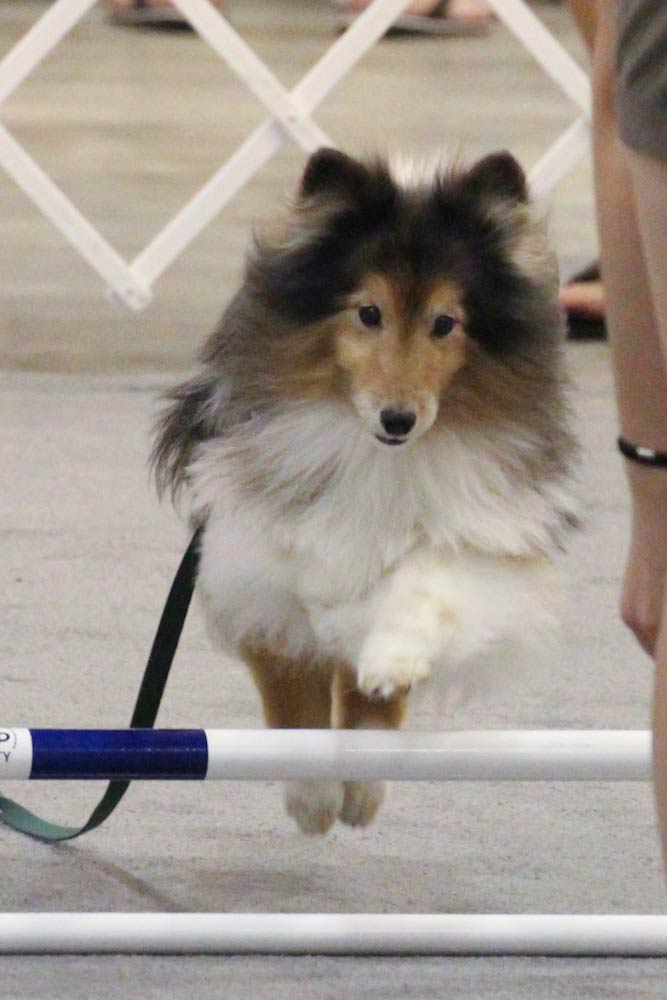 such as the Golden Retriever and Labrador Retriever. Add to this Canine Frisbee, Canine Musical Freestyle exhibitions, over 200 vendors, booths from rescue, welfare, the AKC, and service organizations, and the popular Dr. Mari Jon Filla Student Art Exhibit, and there will be something to capture the attention of anyone with an interest in dogs.
One of the event sponsors is also the area's oldest kennel club, the Houston Kennel Club. Tom Pincus, President of the 100-member Houston Kennel Club, explains that the club founded in 1935 has deep civic roots. Community involvement includes hurricane preparedness expositions every June, and outreach efforts such as the "Trick for Pitts" program see trained volunteers enter various city precincts and work with owners of dogs habitually at-large by giving them basic obedience training. New club members are always welcomed, and the rewards are many for the person who enjoys the company of fellow dog lovers while "giving back" by working within their community.
Certainly one of the perks of membership is the opportunity to work on the Houston World Series of Dog Shows that Pincus describes as "a combination of a circus and flea market with a dog show on the side and an art exhibition, to boot." The Student Art Exhibit honors the memory of Dr. Mari Jon Frilla who started an art show for grades 6-12 twenty years ago. There are over 1,000 entries displayed during all five days of the show.
Pincus points out that Houston Kennel Club was very first AKC licensed kennel club to have an agility trail, so he is especially pleased that on Saturday and Sunday, the show offers the hugely popular "My Dog Can do That" event open to any dog of any breed or mixed breed. Owners can work with an AKC trainer in a scaled down agility ring. PAL registrations will be offered which allow enthusiastic owners newly keen on agility to enter their dogs in more formal AKC events in the future.
Other events open to any dog of any breed are the All-Breed Weight Pull (some of the entries can pull close to a ton!) sponsored by the Alaskan Malamute Club of Greater Houston and the Texas Alaskan Malamute Rescue Association, and the Barn Hunt, an instinct-based competition open to handlers and dogs of all skill levels (and yes, the rats are safe and well protected). Pincus advises attendees to wear comfortable shoes because "the NRG is a 900,000 square foot building, and every inch of it is used."
The show runs Wednesday (when admission is free) through Sunday. Gates open at 7:30
• $15.00 Adults 13 to 54 years of age
• $10.00 Seniors 55 and older
• $ 5.00 Active and retired military personnel and family with ID
• Free Children 12 and younger
**NRG Center does not accept credit cards; however, an ATM is located in the lobby.
Check out 'My Dog Can Do That'.