Now in its 16th year, and celebrated on the Friday following Father's Day, National Take Your Dog to Work Day has continued to grow in popularity as more companies both large and small realize the benefits to their employees—and to their bottom line—when dogs are welcome in the workplace.
Owning a dog, or being around one, or even just encountering one, has such a wealth of positive effects on our physical, emotional, and mental health that entire fields of research are devoted to studying them. But it doesn't take much science to prove what any dog lover knows: We simply feel better when they're around.
For many people, the workplace is where they could most use a boost to their sense of well-being.
So much so that in an online survey conducted by 3MillionDogs.com, 66% of the 500 respondents said they would even be willing to take a pay cut if their employer allowed them to bring their dog to work. A whopping 95% said they would be less stressed, and 94% said they would be happier and more productive. When asked if they thought they'd get along better with co­workers if they had their dog with them, 91% replied with a resounding yes. (Granted, the website is directed at dog lovers, so the demographic may be skewed!)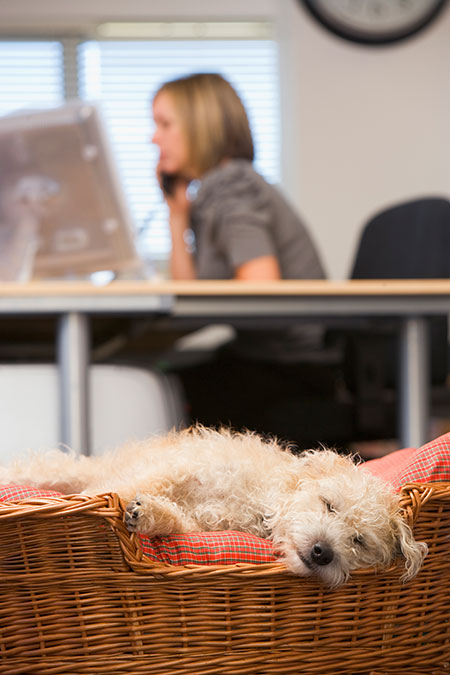 Petmd.com cites a 2012 research study published in the International Journal of Workplace Health Management, showing that on-the-job stress levels fell among a group of Greensboro, N.C. employees when they had their dogs by their side. Conversely, stress levels grew for their co-workers who either left their animals at home or who had no pet at all.
It's probably not a coincidence that dog-friendly Google, Ben & Jerry's, and Amazon are ranked among the best working environments year after year. Yet only approximately 24% of American workers are allowed to bring their dogs to work.
Most employers who allow dogs in their workplace request or require that the dog is well mannered. The Canine Good Citizen test can help you get there.
If you can't take your dog to work with you—and we hope you can!—and she experiences separation anxiety, there are things you can do.