Vacationing with Your Four-Legged Companion
As the days get longer and the temperatures climb, thoughts turn toward planning a summer vacation. As a dog owner, your first consideration should be what you intend to do about your faithful companion.
If bringing you dog along for the trip is out of the question, you'll need to find a pet sitter or boarding kennel you can trust. If you feel a vacation trip is much more fun with four-legged pal, you must ensure that travel is safe for you and your dog.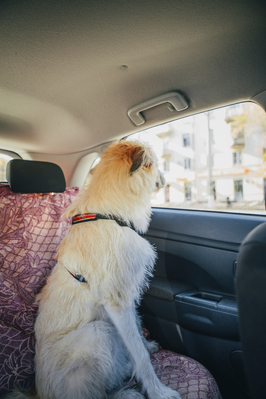 Here are a few tips offered by veterinarians:
Make sure you dog will be welcome wherever you stop. Call ahead or check on line to see which hotels, resorts or bed-and-breakfasts are pet-friendly.
If you're crossing state lines (or entering Canada), you need a health certificate from a veterinarian showing that your pet has had appropriate inoculations.
See that you dog wears a collar with an identification tag attached.
Ensure that your dog is accustomed to whatever restraint or harness you use to protect him in your vehicle. Your dog shouldn't be cruising along with his head out the window, nor should he be sitting in the driver's lap.
Make frequent stops along the trip to allow your dog to stretch his legs, relieve himself and sniff around a new environment.
Bring adequate food and water. Try to maintain your dog's regular feeding schedule.
Don't forget to bring any medication your dog needs, treats and a few of your dog's toys.