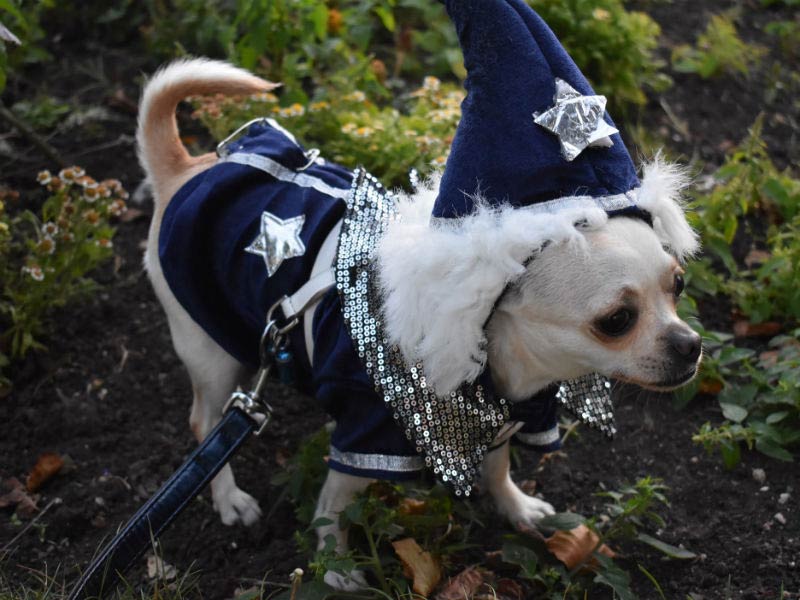 When it comes to little dogs, it's often easy to dress them up in winter sweaters, sports team jerseys, and rain gear. There are plenty of costumes out there for the small dogs in your life this Halloween. Some costumes are a little more of a commitment, but all are absolutely adorable.
A mask? A cape? Who needs anything else for Halloween? This Teen Titans, GO costume is adorable and perfect for that trick-or-treating walk through the neighborhood.



2- Puppy Latte
Starbucks already created the Puppuccino for dogs to enjoy. I'll take a tall puppy latte, please.



3- Minions
They're small and cute, and stole the show in "Despicable Me," just like your dog will do this Halloween.



4- Pikachu
Be careful with this costume, with all the Pokémon Go players out there people actually might try to chase your little "pocket monster"!



5- Ewok
Ewoks were little bundles of fur in "Star Wars," much like your dog this Halloween.



6- Skunk
Real skunks are cute, but smell bad; this skunk costume is cute and doesn't smell bad, at all.



7- Bumblebee
The best part of this bumblebee costume? No worries about stinging!

Every cowboy needs his partner in crime; just look at this cute costume.

The costume that proves not all spiders are creepy and crawly. Or even scary.



10- Pumpkin
The classic Halloween costume, made even better because it's for your dog!!

Don't see something that speaks to you? Check out our comprehensive guide to Halloween costumes for more spook-tacular ideas. And to make sure you stay safe and enjoy everything Halloween has to offer, check out our safety and activity guide.
For more spooktastic inspiration, head over to the AKC Shop and check out our Halloween collection!