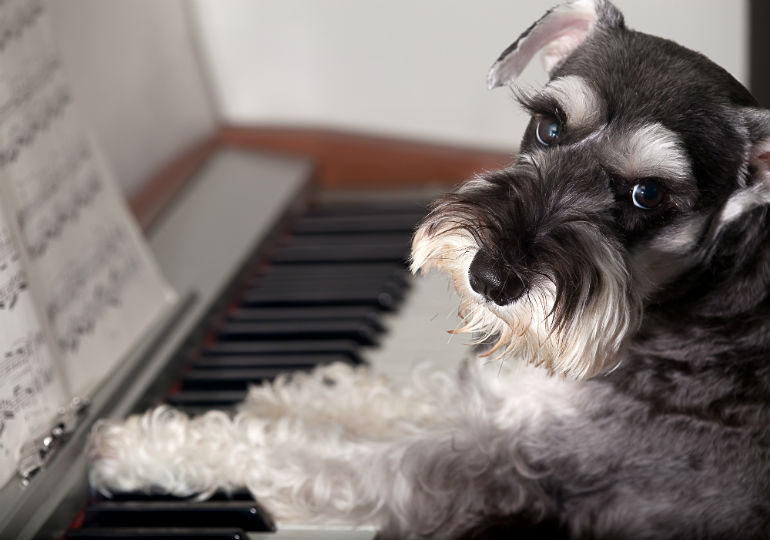 Dogs are capable of learning all sorts of tricks, and Mishka, the Siberian Husky, takes this to a whole other level. Not only can she sing, but she also does so on command and is actually pretty good! So good in fact, that the song in the video is available on iTunes.

Sometimes, when you feel a song in your heart, you just have to set it free. That's what our cute little Beagle friend does in this next video. He bounds up to the piano and just starts pressing away the keys, howling along to a song that only he knows the words to. A beautiful melody indeed.

When you're either too big and furry or too small to do most of the things you want to do, the struggle is real. This Bloodhound/baby duo belts the blues like no other, with the toddler blowing away on a harmonica and the Bloodhound howling his heart out. Blues legend B.B. King ain't got nothing on them.

Someone alert Alicia Keys that we've found her number one fan, and his name is Frank the Dogue de Bordeaux. He's lying on the floor minding his own business when the song starts and is immediately entranced by Keys' voice. So much so, that he begins to sing along to the song, a little off-key, but with as much passion as Keys herself.

Opera is one of the most under-appreciated genres of music, but this Dogue de Bordeaux understands its rich artistry and even attempts to mimic it. Belting along to Act I of "Carmen," he howls and mewls along with gusto.
Some dogs, like Aleut here, get a little bit of stage fright before singing. However, after a little coaxing, she's able to really perform, and what originally was a nonsense song becomes a heartfelt ballad.