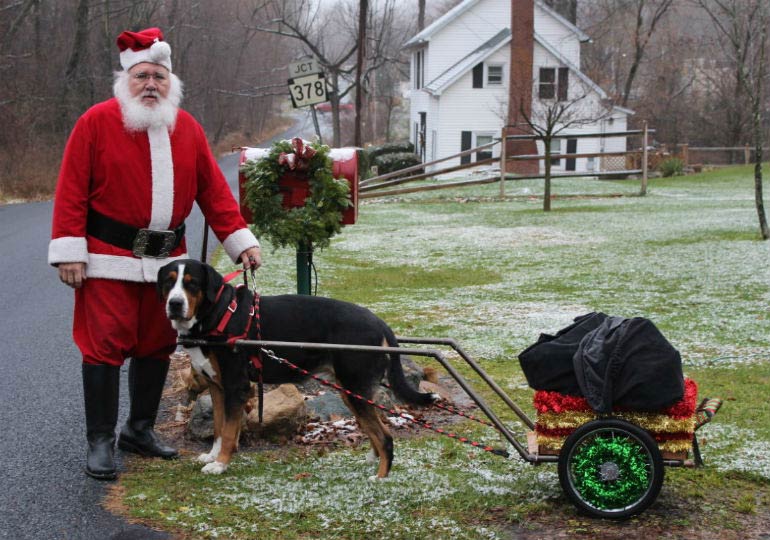 It took just took a dusting of snow earlier this month to put Santa Wayne (Hecker) and Toby, the family's Greater Swiss Mountain Dog, to be in the holiday mood outside of their rural Bethlehem, Pa., home.

Writers often agonize when trying to find a story with a perfect fit. For instance, a warm, fuzzy holiday piece involving a dog, owner, and inviting scenario.
Meet Santa Wayne (Hecker) and his 4-and-one-half-year-old Greater Swiss Mountain Dog, Toby, from Bethlehem, Pa., "the Christmas City." They personify the heart and soul of the season with their spirit and spunk.
Toby is a show dog that also finds time to pull a cart, maybe a sleigh some day, and participates with the Santa Claus-costumed Wayne in festivities in Bethlehem throughout the month. These include Mid-Atlantic Greater Swiss Mountain Dog Club pet pictures, Berks County Kennel Club holiday party, Coatesville, Pa. Christmas parade, and gift-giving trips to area rehabilitation and nursing centers.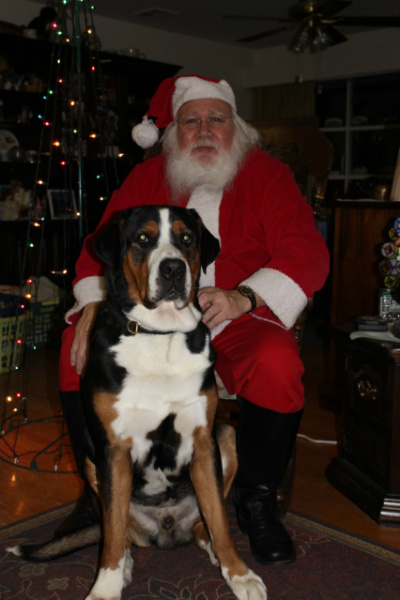 Toby has had other memorable holiday moments, too, recalls Janie Hecker, Santa Wayne's wife.
"On Toby's first Christmas, we placed all of our gifts beneath the tree, thinking he would not be interested in them," she says. "He sniffed and nudged each one until he found his, containing Nylabones. He tore off the wrapping and tried to chew the box open until we grabbed it."
A few weeks before Christmas last year, Janie took Toby on their daily walk, but after it became dark they rounded a curve, and Toby saw colored lights ahead and began barking. "Swissies don't like changes," she says, "and he just could not figure out what those bright things were. Initially, I didn't recognize what he was barking at, thinking maybe someone was ahead of us in the dark. Eventually, he stopped, stood erect, and acted quite alarmed. I coaxed him on the lawn toward the three-foot evergreen tree. Once he saw the tree with the lights and smelled it, everything was fine."
The Heckers brought Toby, their first Greater Swiss Mountain Dog, home in July 2012 when he was about 10-weeks-old. "We like large dogs," say Janie Hecker. "I fell in love with the breed's tricolored coat (black, white, and rust). Its activity level is moderate, which matches our stage of life (both are 66 and retired), and its mild temperament and willingness to interact with the public makes it the perfect fit for us."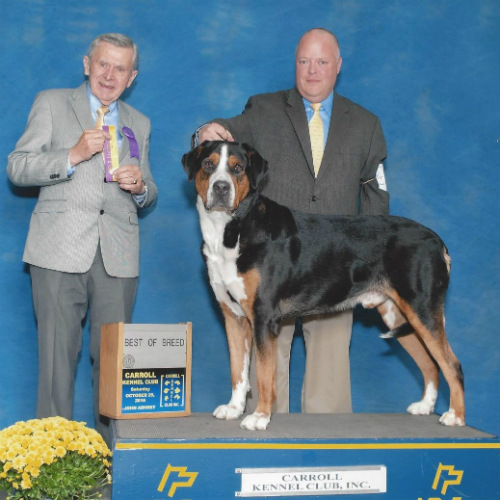 While Toby and Santa Wayne have a flair for seasonal substance and splash, Toby's accomplishments don't stop there. He is a bronze Grand Champion winner in the conformation ring and owns a Canine Good Citizen title and a Novice Working Pack Dog designation awarded by the Greater Swiss Mountain Dog Club of America and recognized by the American Kennel Club.
In the show ring, he is handled by Brian Ullom, of Newport, Pa. This year, he has competed in 76 shows, virtually all in the Northeast.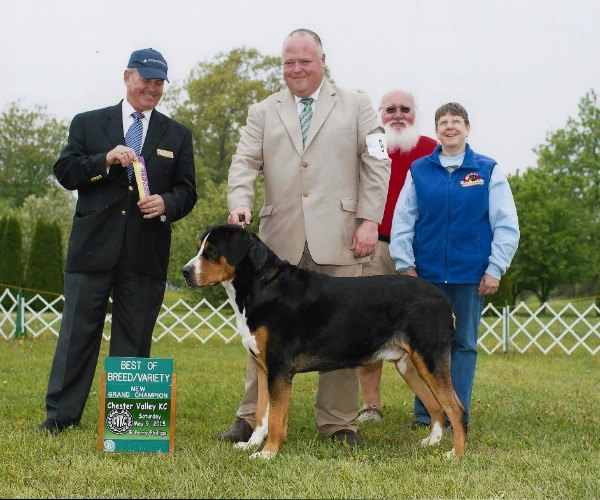 To earn the Novice Work Pack Dog title, a dog must be 18 months old. A certified veterinary record of the competitor's weight must be submitted, and the animal is required to carry 20 percent of his/her weight in the form of consumable products (water and food), which may be partaken by dog and hiker as the hike progresses. "Earning a Pack Dog Leg(s) towards a title requires the dog/handler team to complete a ten mile hike, 8 mile back-to-back hikes or a 5 mile (each way) primitive overnight camping trip," the Greater Swiss Mountain Dog Club of America explains. Toby and the Heckers completed four legs, required to be completed within four months, earning the certification in June 2014. They also have completed two legs toward a Working Pack Dog title.
The 135-pound Toby has a Swissy housemate, Klara, a 21-month-old champion that is co-owned with her breeders, Carol and Joe Neuman, of Birdsboro, Pa., who also bred Toby.
Asked to characterize Toby, Santa Wayne replies, "He is a puppy in a big dog body. A Baby Huey at times. He's a gentle giant that adores children, letting them pet him all over, while soaking up the attention. He knows more people in our neighborhood than I do. If I had seven more like him, I could retire all the reindeer and have eight Swissies pull the sleigh."
Janie adds, "He's a stinker. By that, I mean, he uses 'Look at me, I am so adorable' eyes to mooch from me or to coax me to give him a dog biscuit. When I'm not looking, he will counter surf in the kitchen, but he never takes anything. He has a sweet temperament and loves to be hugged. Then he will kiss me on the ears."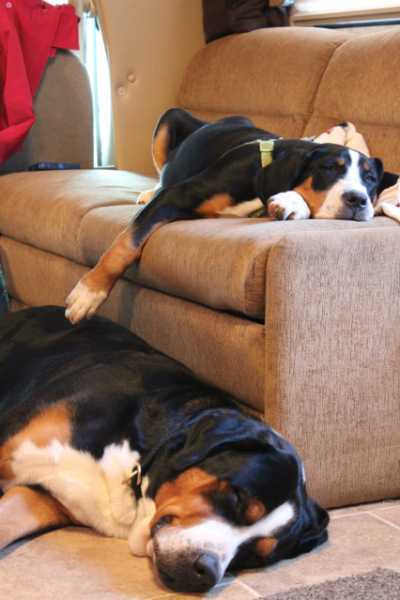 "He always wants to be with one or both of us, and makes me feel guilty when I leave the house without him. Conversely, he's a majestic, stunning dog whose presence is a magnet for children and adults alike. I wish I had a dollar for every time we have been asked, 'What kind of dog is that?'"
This month they can respond with a smile, "A Christmas dog!"