The AKC Gazette photo collection is the nation's most comprehensive archive of vintage dog-show photography. The collection houses thousands of original prints that form a visual history of 20th-century dog sports: field events, obedience trials, and conformation dog shows from coast to coast.
Among the collection's most popular sub-collections is our Westminster Kennel Club file, featuring many of the greatest dogs, handlers, and judges of all time. With the 140th Westminster dog show presented by Purina® Pro Plan® nearly upon us, we dip into the archive to bring you a few vivid images of the big event's illustrious past.

1935: One in a Million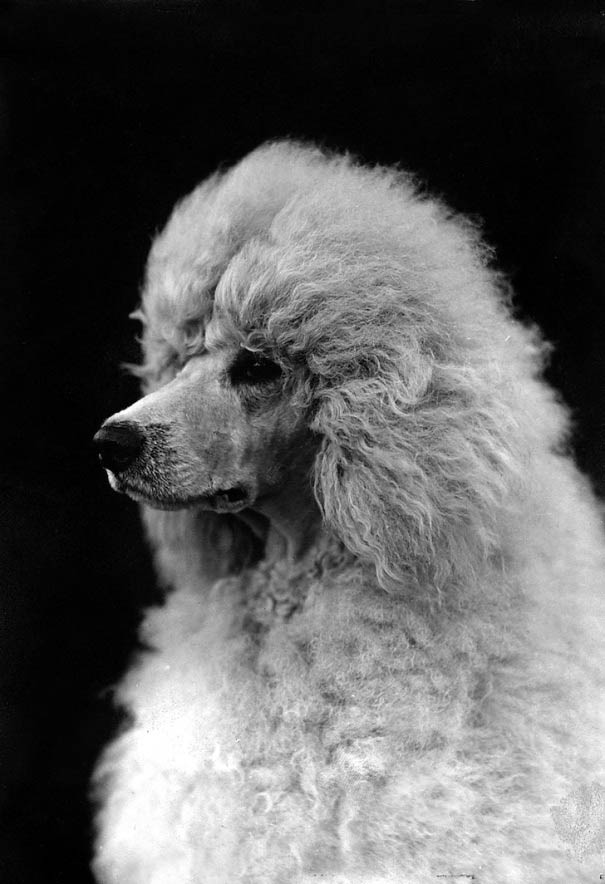 Celebrated canine portraitist Rudolph Tauskey made this magnificent head study of Standard Poodle Ch. Nunsoe Duc de la Terrace of Blakeen. In 1935, Duc won Best In Show at Westminster, making owner-handler Hayes Blake Hoyt the first woman to handle a dog to the top spot at the Garden. When Duc died in 1940, the Gazette published Mrs. Hoyt's beautiful tribute to her one-in-a-million dog. Here's an excerpt:
"I remember that when I knew nothing of handling a dog, Duc took me into the ring show after show, and showed! His confidence gave me confidence, and I have since been able to show most dogs. I remember he twice stopped traffic and drew immense crowds by just walking with me in the streets of New York City, and the surprise in his magnificent and merry eyes when I hastily got him into a cab.
"He never knew he was great or unique or a showman, for he was unselfconscious and completely himself. He was far beyond the ownership of any man or woman, for he reflected only himself, a noble and majestic personality. It was a privilege to know him, and a boon to lovers of the canine race that he was a dog."

1938: Not Just for Fun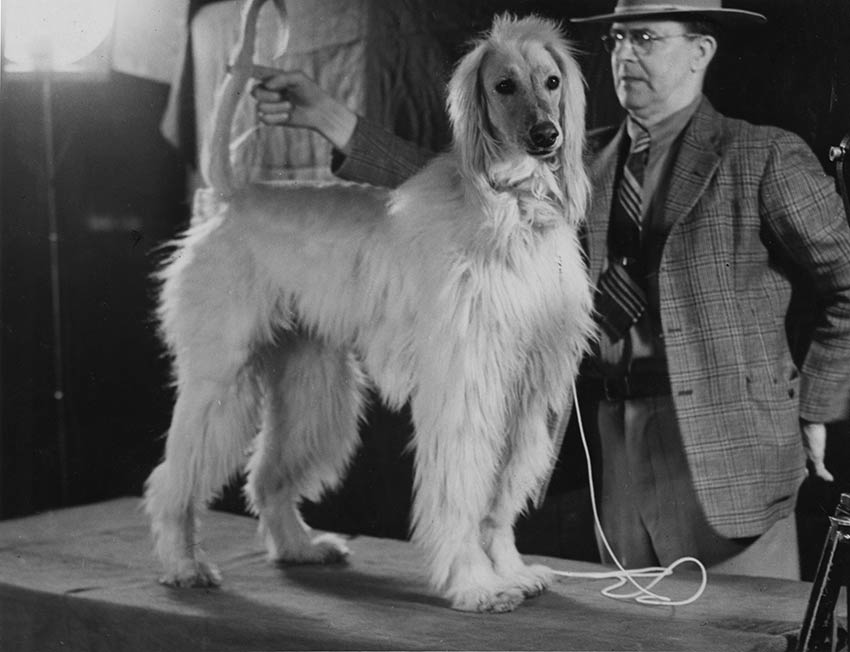 As exciting as the action can be in the ring, veteran Westminster photographers know that there are just as many great photo ops backstage. A good example is this shot of Amanullah of Kandahar, 1938's Best Afghan Hound in Show, on the grooming table.
Aside from the sheer fun of looking at these old pictures, they also serve an educational purpose. A young fancier of today just getting into this breed might be surprised to learn that Afghan coats weren't always kept as long as they are today. Styles change with the times. The Poodle is another example of a breed groomed differently today than it was in the '30s.

1942: The Garden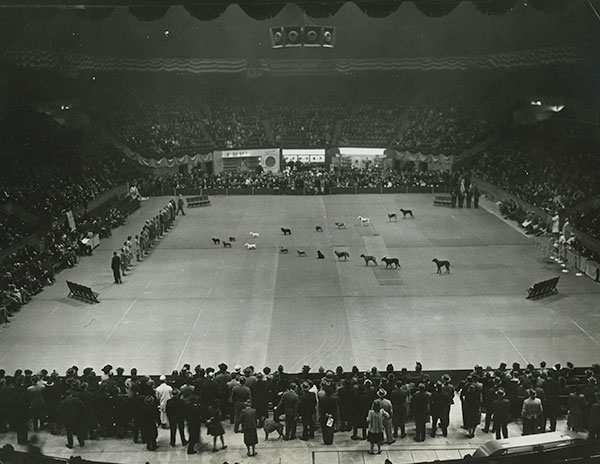 This recently rediscovered World War II–era photo, published here for the first time in 74 years, shows the dogs of the New England Dog Training Club forming a patriotic "V for Victory" during the Westminster show at New York City's Madison Square Garden.
Westminster and the Garden grew up together. The first Westminster show was held in 1877 at Gilmore's Garden, an open-air arena at 26th Street and Madison Avenue, later renamed Madison Square Garden. In 1890, an enclosed arena was built on the same site and stood until 1925.
When the Garden moved uptown to Eighth Avenue at 49th Street, Westminster moved with it. The new facility became known as the "World's Most Famous Arena," hosting the best in boxing, basketball, hockey, rodeo, and, of course, dog shows. It was at this location that the great Joe Louis defended his heavyweight title eight times, Marilyn Monroe sang "Happy Birthday" to President Kennedy, and Westminster built its reputation as an American institution.
This beloved New York landmark (the "old Garden," as sports fans of a certain vintage still call it) was razed in 1968 and replaced by the current Garden that stands above Pennsylvania Station.

1958: A Big Westminster Hello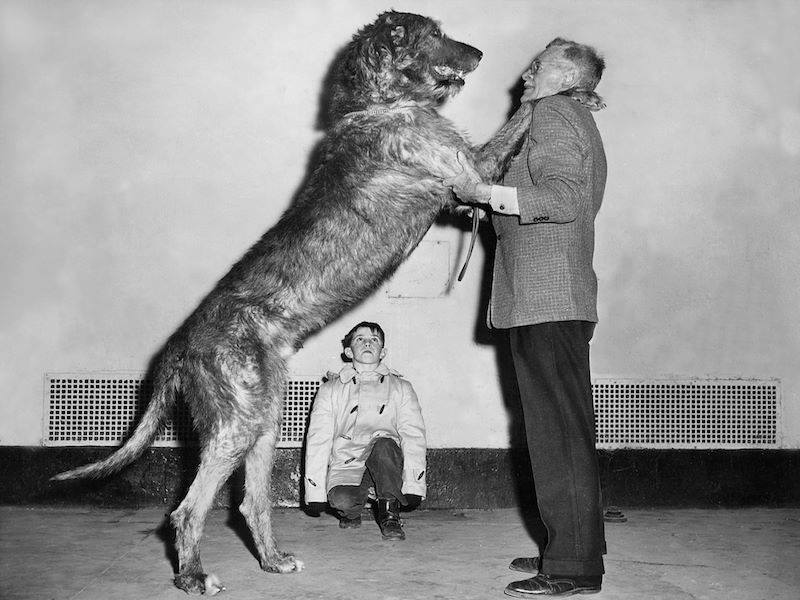 Here's another memorable shot taken backstage. A New York Daily News photographer got this memorable shot of the Irish Wolfhound Club of America's Charles Burrage receiving an exuberant greeting from Ch. Ballymacad of Ambleside. This has long been one of the most popular photos in the AKC Gazette collection.

1959: Great Dame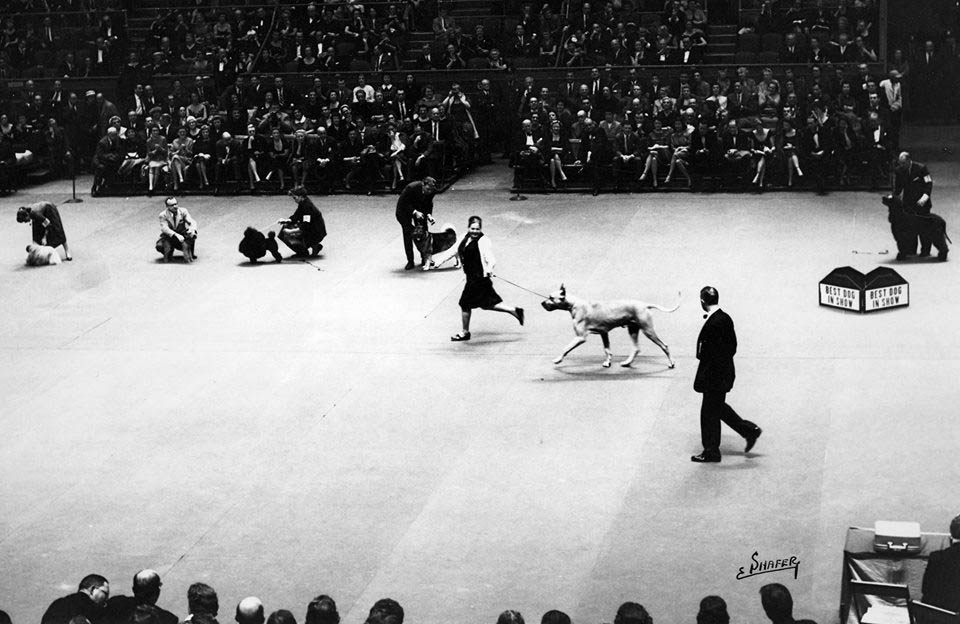 The sport of dogs has always attracted people with big, flamboyant personalities—and few were as big and flamboyant as Lina Basquette. She was a former Ziegfeld Follies dancer and movie star, widow of Sam Warner (of Warner Brothers fame), and hugely successful breeder-handler-judge of Great Danes. Married nine times to seven husbands, and never shy about speaking her mind, Basquette is remembered fondly as one of the all-time characters of the show ring.
The AKC Gazette archive bulges with countless shots taken by Evelyn Shafer during her long career as a show photographer, but this one has always been a special favorite among dog folks. It shows Basquette gaiting her Ch. Honey Hollow Stormi Rudio during Best In Show judging at the Garden.
For more on this remarkable woman, see Great Dame: The Lives and Loves of Lina Basquette.

1960: Meet the Press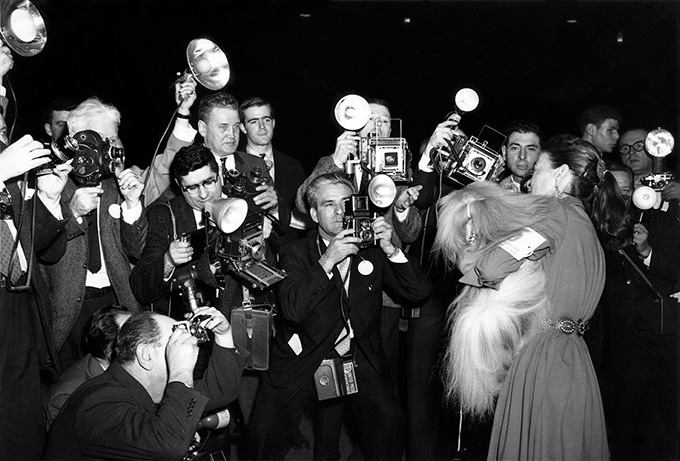 Since the rise of photojournalism in the early 20th century, Westminster has been a goldmine for photographers seeking colorful and exciting subjects. This classic shot provides a dog's-eye view of the Westminster photo corps jockeying for their money shot of Best In Show winner Pekingese Ch. Chik T'Sun of Caversham.
Gossie, as he was known, was one of the great show dogs of all time. This photo represents his last trip to the winner's circle. An American and Canadian champion, he retired after Westminster with a then record 127 AKC Bests in Show, and 11 more in Canada.
Gossie was one of four Pekingese to win Best In Show at Westminster. The most recent being Purina ® Pro Plan® Performance-fed GCH Palacegarden Malachy, who won in 2012.

1970: Seeing Double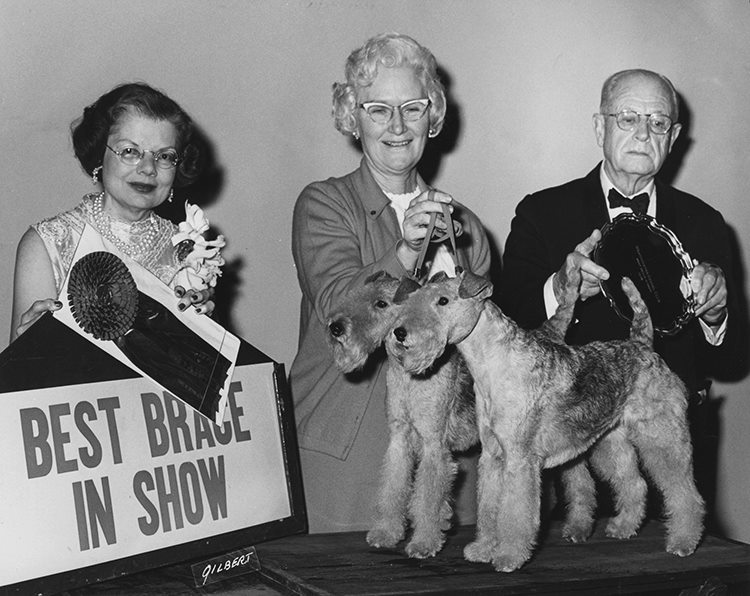 "Brace showing" was for years a popular attraction at Westminster. In the brace ring, two dogs from the same kennel are shown together to exhibit the consistent excellence of a breeding program. This William Gilbert win shot shows Grace Brewin with a pair of her "Petercrest" Lakeland Terriers, flanked by judge Anna Katherine Nicholas and Westminster show chairman Albert Van Court.
Brace showing has been discontinued at Westminster, but it is still offered at several shows around the country.

2004: Goodbye Paper, Hello Digital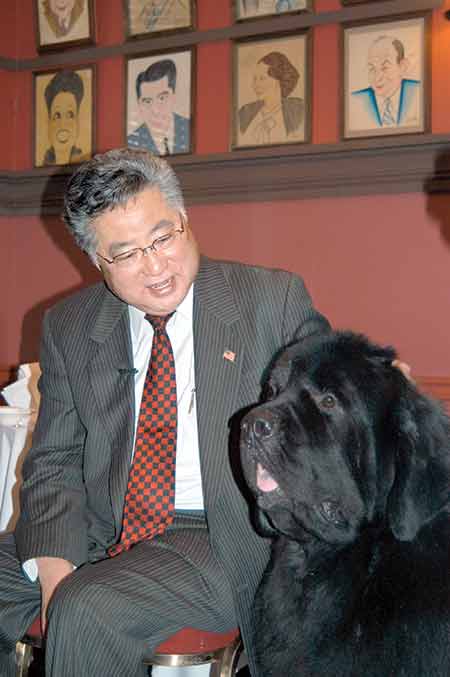 A Westminster tradition for many years was a day-after postmortem at Sardi's restaurant, featuring the Best In Show dog and judge. Here's a shot from the 2004 event, with the lovable Newfoundland Ch. Darbydale's All Rise Pouchcove and the judge who made him America's dog of the hour, Burton J. Yamada.
This is one of the last additions to the AKC Gazette photo collection. Seemingly overnight, digital imaging made paper prints obsolete in the publishing business. The glossy 8x10s that for a hundred years were indispensable tools of the editor's trade are today lovingly preserved artifacts from our sport's golden age.
If you like what you see here, visit the AKC Gazette Facebook page for lots more vintage photos, including collection's best color images.
Read more of AKC's Westminster coverage here.