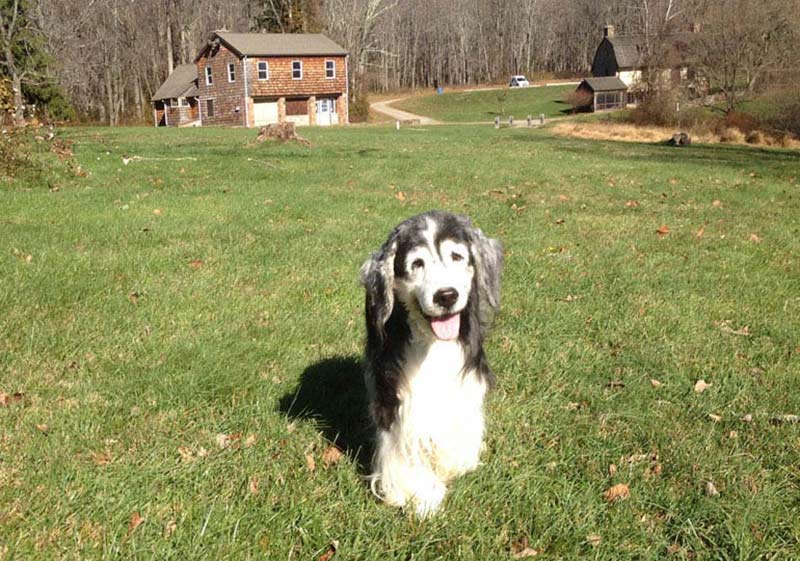 Photo courtesy of Katrene Johnson

In February we heard that 2006 Award For Canine Excellence winner Morgan, a member of an elite circle of dogs who searched for human remains in New York after 9/11 and in the Gulf Coast after Hurricane Katrina, had died not long before her 17th birthday.
Morgan was a K-9 deployed by the volunteer West Jersey Search and Rescue. Her finely calibrated nose was able to detect minute scent particles of human remains at disaster sites. She worked countless searches across the country during her long career, and she was still game well into old age.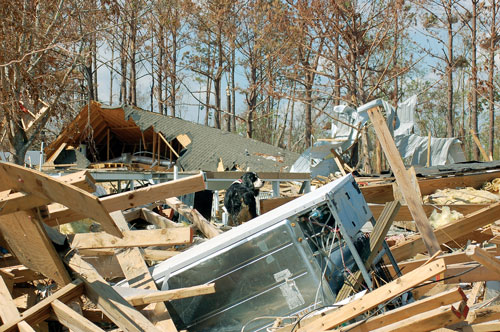 Morgan doing her grim, dangerous work in Hancock County (2005). Photo courtesy of Katrene Johnson

In her final days the grizzled English Springer Spaniel was deaf and suffered from cataracts, but late last year her loving owner-handler Katrene Johnson, of Lebanon, New Jersey, said, "She goes out to the barn with me several times every day, rambles with me and the other dogs on the trails once or twice a week, and still plays a little every day. She's a bit creakier and sleeps more deeply these days, but her dreams seem full of fun and adventures."
During their eventful partnership, Morgan and Johnson shared enough adventures to fill the dreams of a hundred ordinary dogs. In the aftermath of the 2001 terror attacks on the World Trade Center, 2-year-old Morgan was deployed to a Staten Island landfill, where she tirelessly sniffed out human DNA in the toxic rubble ferried in from Ground Zero. But it was her work in Mississippi, after Katrina, that brought her to the attention of the ACE selection committee.
The Ghosts of Hancock County
Johnson and Morgan were among the search teams sent to Hancock County, Mississippi, to find unaccounted-for persons after the category-3 hurricane ravaged the area in 2005.
The dogs worked house-sized piles of broken wood, glass, and chunks of roof. "It was almost silent—the storm had driven away or washed away all the birds and almost all the insects," Johnson said in 2006. Even Morgan's deep breathing seemed loud as she pushed her nose under sections of decking, sodden sofas, or chunks of plasterboard to check for scent rising from below.
Morgan scrambled up layers of framing and broken walls. Boards creaked and squeaked against metal as they flexed under her weight. The only other sound was the hot breeze blowing through the pine trees. Seawater had killed the roots of trees for miles around, and the once lush, green pines were now red-needled. "Many were broken off way above our heads, where roofs of houses, boats torn from their moorings, and other flying debris had slammed and smashed into them, snapping off their tops," Johnson said. Plastic grocery bags full of water hung high in the branches, filled up and deposited there by the sea. Clothing, fabric, and tarps hung like ghostly laundry from the limbs of dead trees.
The heat in those anxious post-Katrina days was usually well over 90-degrees, and Johnson took care to keep her dog cool and hydrated. Although the canals were filled with deep, inviting water, Morgan was given the "Leave it" command. "The alligators owned the canals," Johnson said. "They considered the dogs meals with collars. Morgan searched along the canals only if an armed officer came along. Even when she was put in a low-slung boat to search the canals for human scent breaking the surface, a rifle was part of the gear."
Once an area was searched, residents were allowed to return. Most came back to find their homes completely destroyed. Even when a house stood, looking undamaged, it had been soaked in 30 feet of salt water, ruined.
Some Hancock County residents bought small trailers to live in. Others camped in tents. "The most powerful memory from Mississippi is coming alongside one of those trailers," Johnson said. "The wonderful people living there, with almost nothing left in the world, saw Morgan and stopped their work. They offered us water. 'Anything,' they said, 'anything we have for the dogs.' "
The Survivor
Despite her sterling work in Mississippi and dozens of other deployments, by Morgan's 16th year her greatest claim to fame was being among the last surviving 9/11 dogs. Morgan's longevity made her a key subject in a long-term study conducted at the University of Pennsylvania.
Dr. Cynthia "Cindy" Otto is founder of the Penn Vet Working Dog Center and one of America's foremost canine-health researchers. Since the 2001 terror attacks in New York and Washington, D.C., she has monitored the health and behavior of 9/11 search K-9s. The landmark project began 15 years ago with the enrollment of 95 dogs who worked the New York and Pentagon rubble piles. (Fifty-five nondeployed rescue dogs served as controls for the study.) Morgan outlived all but two of the original 95 subjects.
Shortly before Morgan's death Otto said, "The ability to follow these dogs and document any health or behavioral effects of their heroic service is invaluable." In this way, Morgan—deaf, nearly blind, moving ever so gingerly—was able to serve others until the last beat of her mighty heart.
Dr. Otto's research is supported by the AKC Canine Health Foundation. Click here to read more about her study of the 9/11 dogs.