Glendale, Arizona—On June 20, 2014, Officer Wes Zygmont, of the Glendale Police Department, and Belgian Malinois K-9 Ronin answered a call to apprehend an armed trespassing suspect hiding in a residential backyard. When Ronin moved in to make the collar, the suspect opened fire. A team of backup officers responded with a volley of gunshots. The suspect was killed, but not before wounding Zygmont and killing Ronin.
Jessica Zygmont, Officer Zygmont's wife, told the Glendale Star, "I honestly believe if Ronin hadn't been with Wes on that day, one of those three officers would have been killed in that shootout."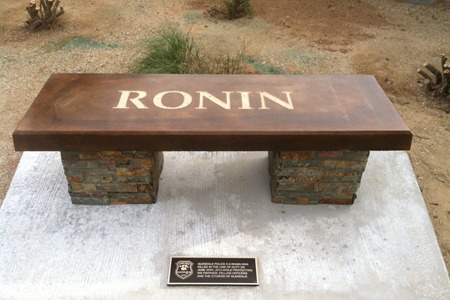 Inspired by her husband's hero dog, Jessica founded the Blue Line K9 Foundation. The foundation is a nonprofit that offers assistance to the families of killed or wounded K-9 officers and dogs. "Most people don't realize the time, effort and amount of money that goes into properly maintaining and training a police K-9," said Jessica in her Star interview. "Police K-9s typically cost more than $60,000 during their service career and at times are funded only through donations, grants, or solely by the handler."
In the wake of Ronin's death Wes and Jessica were inundated with cards and gifts, as well as offers of donations. And the couple knew of several organizations that offer assistance when police officers are wounded or killed in the line of duty. But Jessica wondered what type of support would be available if only Ronin had been shot. The thought led to the founding of Blue Line K9.
By the end of May, the foundation had raised $20,000 and made 19 payouts to support officers and their families in times of need, in addition to providing financial help for veterinary care, rehab, and other expenses involved in getting injured K-9s back on the job.
Jessica hopes to expand Blue Line K9's scope to include search-and-rescue dogs and other K-9 workers. "We also want to start working for tougher laws for when a K-9 is injured or killed," she says. "We feel it should be a felony because these are officers, too."
Earlier this year, a memorial bench in a Glendale park was dedicated in Ronin's honor. Here, Officer Zygmont speaks at the dedication ceremony: