Alaskans understand the threat of wildfire. With more than five million acres burned in Alaska so far this year, as reported by the Alaska Interagency Coordination Center, the 2015 wildfire season is already the state's third largest on record. With 237 fires still listed as "active" in Alaska as of August 11, it's likely that the 2015 season will soon take over the number-two spot.
A close-knit community of "mushers," or sled-dog owners, was affected by the Sockeye Fire that broke out in late June near the town of Willow. About 70 miles north of Anchorage, Willow is home to many sled dog teams, and with the outbreak the number of dogs suddenly at risk numbered more than 1,000. Thoughtful planning, groundwork preparation, widespread communication via social media, and Alaskans' deep love and respect for dogs saved the lives of many animals and their owners.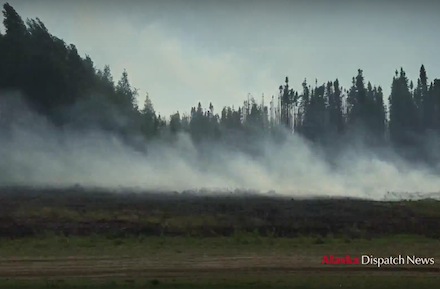 The Sockeye Fire was found to have been started by an Anchorage couple's failure to extinguish an unattended, non-permitted burn pile they had set near a cabin they were visiting. Low snowfall and less melt, combined with hot, intensely dry weather and high winds, created a fast-moving inferno in less than two hours.
At a meeting of the Willow Dog Mushers Association just weeks before the fire, Chuck Cubbison, a member of the Siberian Husky Club of America, had reviewed emergency preparedness procedures, which served as a timely reminder and checklist for both longtime and newer residents.
Mushers routinely load multiple dogs in vehicles to train or race, but an evacuation was different and required another plan. Fire threat meant removing all animals quickly and being able to care for them for an unknown period of time, with many owners not knowing the destination.
Suddenly, the evacuation was underway. Ash and smoke filled the air during the initial evacuation. Thanks to Facebook, word of the need for help was quickly spread, and volunteers drove door-to-door helping to load dogs into trucks, crates, and trailers, saving virtually all the dogs and every person from the fire.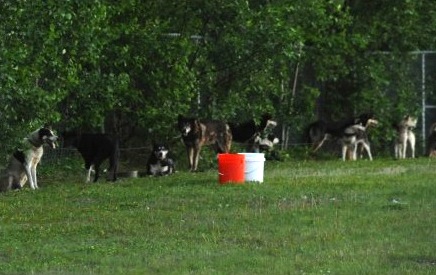 The fire began on a weekend, and many owners were home. Those who returned home found that their animals had been rescued. Residents with large kennels who were nearby and potentially at risk evacuated the area as well. Volunteers made several rescue trips to pick up animals.
Social media made a significant difference in quickly getting help to areas of greatest need, calling into action people from all walks of life who spontaneously worked together. In less than an hour, the mandatory evacuation area was cleared.
The fire continued to spread, and hotshot fire crews from the lower 48 states began arriving to aid the Alaskan firefighters. While smoke and ash filled the air, tanker planes and helicopters dropped water and fire retardant.
Housing a large number of dogs and their owners for an undetermined amount time at first seemed like an overwhelming endeavor. Most owners evacuated with little more than the clothes they were wearing and limited dog equipment, and were in need of supplies for themselves and their dogs.
Where do you go with a large number of dogs, not knowing how long you will need to stay? Help began to arrive from many sources. Martin Buser, of Iditarod fame, opened his house and kennel to several hundred huskies and their families. Scott Jansen, known in Alaska as the Mushing Mortician, made his funeral home grounds available. Many families took in friends and their animals. The Norris family (of Anadyr Siberian Huskies) opened a large fenced-in area at the family's feed store to hundreds of dogs and other animals, including horses.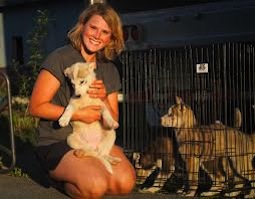 Tarps were rigged to provide shade in the dry, sunny weather, and owners stayed with their tied-out dogs. Meals were donated by restaurants and individuals, and dog food was donated as well. Most owners left with the clothes they had on and some equipment for the dogs. Many evacuees didn't know for several days if their homes and kennels had been spared.
Lisbet Norris is a two-time Idiatrod finisher and a third-generation family member from the oldest Siberian Husky kennel continuously in operation in the United States, begun by Earl and Natalie Norris in the 1940s. She called the evacuation and housing of dogs "a true Noah's Ark event."
Help from nearby and around the globe
The immediate global response to the evacuation was humbling and inspiring. Messages flooded the Internet from Italy, New Zealand, Australia, the United Kingdom, and Canada inquiring how they could help. Many of these came from dog lovers who had visited Alaska to attend the Iditarod to support the racing Siberian Husky teams. Even as the fire burned and the amount of destruction was not yet fully known, a person in the UK began a Facebook group, Willow Fire Support UK, allowing anyone anywhere to offer auction items to raise money for burned-out mushers' recovery. Donations included pieces of sled-dog nostalgia—books, jewelry, artwork, and a hand-made dog sled—raising thousands in less than two weeks. It was interesting watching people trying to decide whether to bid in pounds or dollars.
A group initially intended to be for the United Kingdom dry land sled-dog racers to support their comrades in Alaska has now grown to over 5,000 worldwide. Various groups and individuals have donated to Willow Dog Mushers Association directly as well. Cabin rebuilds for those without insurance were begun. Jan Steves even managed a smile when someone mailed her a small "porta-potty" tent for privacy in the now flat, open landscape.
Local agencies, groups, and individuals helped in many ways. The new Governor declared a disaster area. Groups of people who wanted to help got together to help clear rubble off burned property, build dog houses for returning dogs, and help any way they could. Lumber companies donated materials. Iditarod champion Jeff King loaned his skidder to clear land. Mike Ellis, who finished both the Yukon Quest and the Iditarod with his Tsuga Siberian Huskies, built multiple doghouses and delivered them to Willow. SHCA members Wayne Curtis, Tom Schonberger, and Chuck Cubbison helped evacuate and housed dogs or mushers for a week. The Siberian Husky Club of America Trust made a donation to the Willow Dog Mushers Association to aid dogs in need. Nearly everyone I know had visiting people or dogs.
The Sockeye fire continued for days, engulfing more than 7,000 acres. Fifty-five buildings and 26 homes were destroyed. Several mushers lost their homes, personal property, and all mushing equipment. Residents are beginning to rise from the ashes and rebuild their lives, and the Willow Dog Mushers Association is working carefully to include non-mushers in the burned area in recovery help and plans. You can visit the WDMA Facebook page for ongoing updates on rebuilding efforts and news of the generous groups and individuals who have helped.
Recovery, both physically and emotionally, will be neither easy nor quick. Mushing is the official state sport here in Alaska, and fellow Alaskans and dog lovers around the world have shown their support. Let's hope it continues as the recovery proceeds.
Natalie Norris was encouraged to evacuate her Willow home, an archive of Siberian Husky history. Now in her 90s, Natalie is an AKC judge and a longtime member of the SHCA Judges Education Committee. She founded several area kennel and sled dog clubs and has been successful both in the ring and on the trail. She has traveled around the world judging shows and presenting sled dog and Siberian Husky seminars with her late husband, Earl. Natalie is also an Honorary Life Member of the SHCA. Her granddaughter, Lisbet Norris, said the most difficult thing throughout the evacuation was asking Natalie what few items would she like to take when they left for safety. Natalie chose the trophy won by Ch. Alaskan's Bonzo of Anadyr, CD—a true sled dog, and the first Siberian Husky to win Best in Show (in 1955). —C.N.
Carol Nash, of Wasilla, Alaska, is an AKC conformation judge and a past president of the Siberian Husky Club of America.
The AKC provides information, resources and an evacuation checklist to help owners plan ahead to care for their dogs in natural disasters.