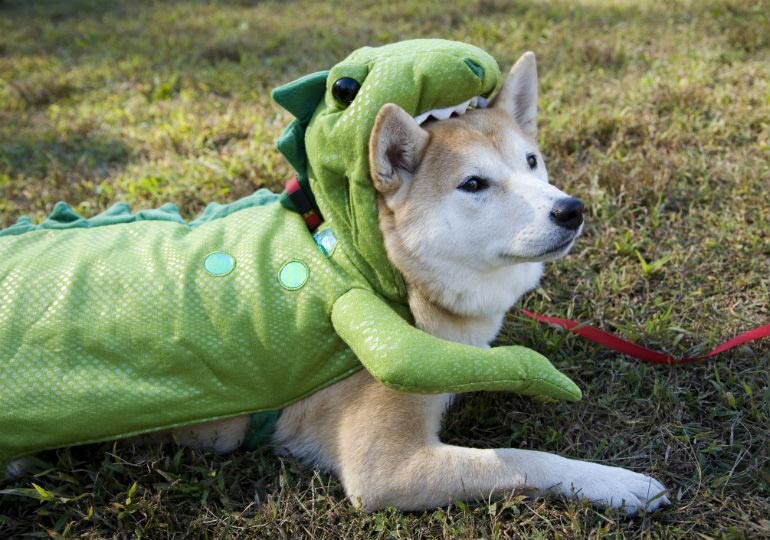 In a recent survey, 59 percent of pet owners said their dogs will be celebrating Halloween this year, with more than three-quarters of them planning to dress their dogs in Halloween costumes or accessories. After all, why shouldn't our pets get to play dress-up, too? And while the dogs may not be bringing home a bag of candy, seeing them in their Halloween finery will certainly be a treat.

But before you start picking out the perfect canine outfit, there are a few things to consider.
If you live in a cold climate, a Halloween costume can actually provide the extra warmth your dog needs on a cold night.
Take your dress-up cues from your dog. Some dogs are perfectly happy being fussed over and dressed up, and they enjoy the extra attention. If that's your dog, go for it! But if your dog doesn't like the feeling of confinement a costume can cause, gets anxious with all the attention, or if he overheats easily, you may want to limit his 'costume' to a snazzy Halloween accessory.
Make sure the costume doesn't inhibit his movements or limit his natural functions, like walking freely, drinking from his bowl, or relieving himself.

That being said, we've rounded up some costumes to make your dog a Halloween hit!
Full-Body Halloween Costumes for Your Dog

Wonder Woman Dog Costume
Superheroes never go out of style, and this dress and headpiece will show the world your dog's superpower -- to be the mightiest dog on the block.

Sweet Pea Dog Costume
Your little sweet pea is sure to win "most adorable" in this plush one-piece costume.

Brett the Triceratops Costume
The tiniest of canines turns into a ferocious dinosaur, complete with horns and tail.

Business Suit for Dogs
If Halloween falls on a workday, your dog will be ready for the office in his own suit and tie. The one-piece costume includes a natty blue suit, perfect white shirt, and tie.

Cotton Glow Bones Dog Costume
This two-piece skeleton costume glows in the dark, especially spooky on a dark Halloween night.

Less Intrusive Dog Halloween Costumes

LED Light-Up Halloween Dog Shirt
This fits just like the kind of sweater your dog may be used to, but it's no ordinary dog gear. The light-up design will make him Halloween's brightest star.

Superman Dog Costume
Every dog can display his superpowers with this adjustable Superman cape. Just tie the cape and emblem on, and he's ready to leap tall buildings . . . or at least trick-or-treat with the kids.

Cowboy Riding Dog Costume
If your dog will wear a harness, he'll rock this ride 'em cowboy Halloween costume. Add the horns for an "authentic" bullish look.
Hot Diggity Dog Costume
You've heard of Dachshunds being called "wiener dogs," now yours can literally be a wiener dog. Easy on, easy off with Velcro straps. Bun and mustard included!
Lion Mane for Dogs
One of the most popular dog costumes of the year, every dog will look like the king of the jungle with this soft, lightweight, and adjustable lion's mane headpiece. Now all you need to do is teach him to roar.
Halloween Costume Accessories for Dogs

Candy Corn Halloween Dog Bandana
Decorated with candy corn and jack o'lanterns, this reversible cotton bandana will get even the most costume-averse dog into the spirit of the day.
Halloween Dog Collar
Choose a Halloween-themed collar with detachable pumpkin decoration for your dog's more minimal celebration of Halloween.

10-piece Halloween Dog Ties
If you have more than one dog or lots of canine pals at the dog park, this set of 10 Halloween-themed ties is the perfect Halloween treat. They're adjustable and fit just like a collar, so your dogs may not even notice they're dressed for Halloween. But you will!

Halloween Hair Bows for Dogs
Face it, you just can't resist accessorizing your pup with hair bows. These Halloween-themed hair bows give you plenty to choose from. Also a great giveaway idea for groomers and dog walkers!