For Picks of The Litter, a regular book review series, Ranny Green critiques "Fast into the Night: A Woman, Her Dogs, and Their Journey North on the Iditarod Trail
" (Houghton Mifflin Harcourt).
Buckle up and hang out for the ride – it's a long one filled with more emotional twists and turns than usual.
This is an adventure read, a bit disjointed at times based on the ebb and flow of the chapters. Just when you find yourself immersed in Moderow's two Iditarod runs, the next chapter reverts back to an earlier family story growing up in Connecticut or Wyoming, which produces a rather uneven ride for the reader.
There are moments of failure and attainment (2003 and 2005 Iditarods) but this not a story of racing alone, rather the interplay of family goals and support complemented by a terrific day-to-day vivid description of the countless challenges she and her dogs faced during the two 1,000-mile races and several others.
In those chapters detailing each day of both races, Moderow captures the bond and trust building between herself and her Huskies, each with a name and personal identity. For the author, this is all about challenge and confronting it head-on. Anything short of finishing the famed event is failure in her mind.
Moderow pays a heavy price physically and psychologically in the process as her husband and two grown children are there as her team's stable boosters throughout both lengthy March endeavors.
Her terrific descriptive passages leaves the reader hanging on and feeling like he/she is alongside the musher on the sled in blinding snowstorms and across ice-covered terrain.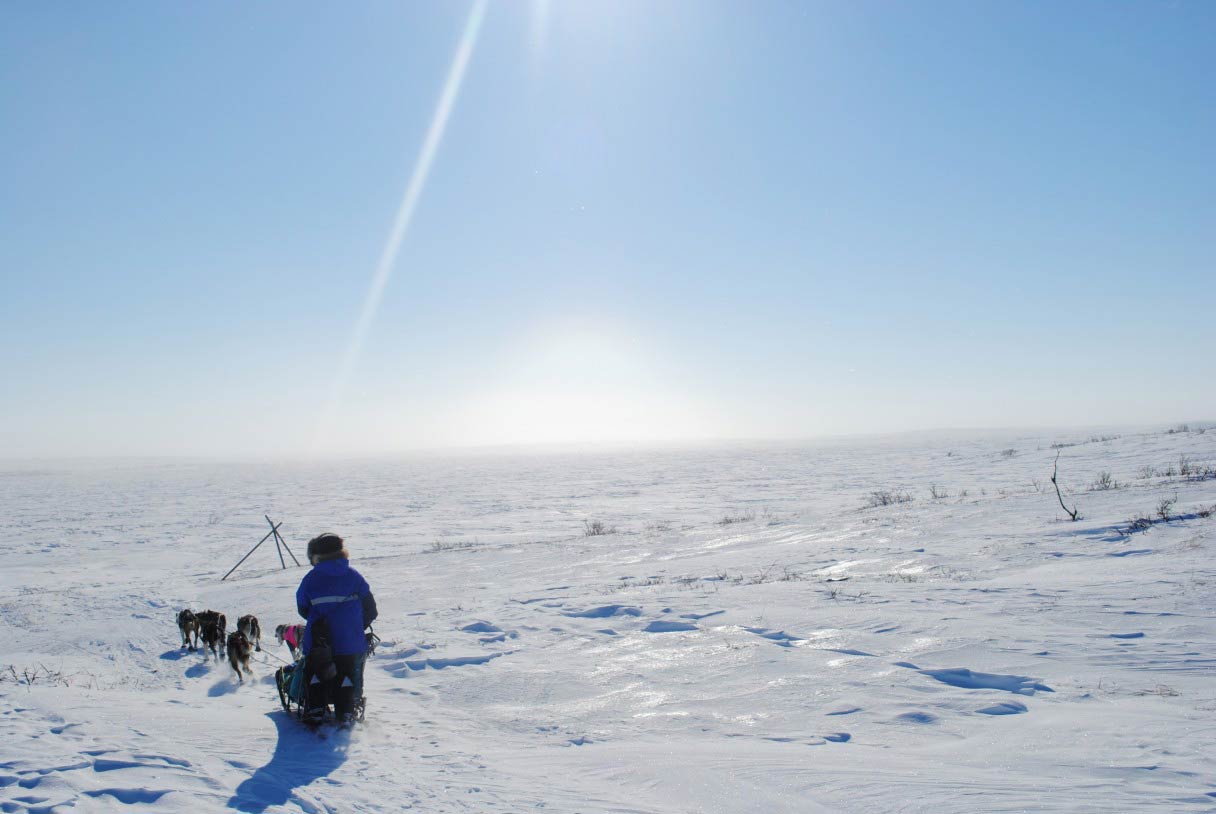 Here are a few:
"As the marathon miles accumulate, my dog team and I enter a landscape of shifting time and space. One afternoon I'm certain that we're running uphill, and then I remember that for God's sake, we're mushing on a river. My mind wanders from one random thought to another. I might spend 10 minutes wondering what day it is. Then that mystery folds into another."
"The truth is, I've rarely failed at anything; the territory is lonely. Pulling out of a race [2003 Iditarod] isn't the crux of my problem. After all, I only wanted to complete the Iditarod with healthy and happy dogs. To lose my connection with the team – that is my definition of failure."
"I know the games mushers play. Veterans in that tent [2005 Iditarod checkpoint] will scare rookies with stories about the upcoming Dalzell Gorge. I won't subject myself to that distraction. Our run from Finger was brutal, but we made it. We're together. The dogs are strong. One milestone is behind us; there's another ahead. We're fully committed."
"The past inspires and informs. It's always with us, but to look down Front Street [in Nome, Alaska] from the runners of my dogsled is a sight that has everything yet nothing to do with what has come before. This moment is the culmination of a 2,000-mile double adventure, the messy beauty of its struggle, and the ultimate surrender to the fact that some endings are happy and others are not."
While I did quibble earlier about the bounce-back chapters, the author is at her best in a chapter entitled "The White Dog," which takes her family from deep despair after she lost two babies before birth to eventual joy with a holiday gift from two friends, 7-year-old Salt, a former racer, who quickly wins the hearts of the entire family. "Salt offered me quiet, inquisitive companionship. He steadied my world," Moderow writes.
And via Salt, Moderow and the family edges its way into sled-dog racing, an avocation that takes them collectively thousands of miles through many fun-filled years in Alaska.
"Fast into the Night" is packed with crisp prose, a brisk narrative, and tough realism accented with loyalty, trust, passion, and plenty of psychological gymnastics.