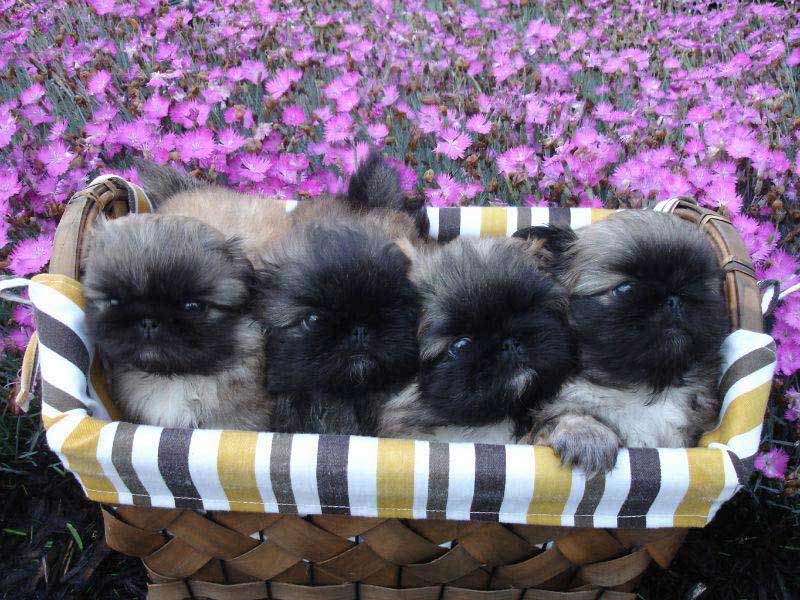 Header photo courtesy of Thomas Jenkins, AKC Breeder of Merit

Rarely does so much royalty come in such a small package! With his profuse coat, lustrous eyes, serene independence, and a dash of self-importance, the Pekingese is every bit as regal as the Chinese emperors who prized him. In fact, the breed was developed as a companion dog for nobility and even considered an ornamental accessory. Once a Peke decides you're worthy, he's an affectionate, charming, and good-natured companion. He's a sophisticated, opinionated fellow, with deep loyalty to his favorite humans. Let's see how long it takes for the Pekingese to win your heart.
In ancient times, the Pekingese was often carried in the Emperor's sleeve. Today, he's just as likely to be found in a dog bag made especially for him.

Bred to be a companion, the Pekingese was also used as a personal guard dog. Modern Pekes do make good watchdogs, but they might be more likely to be guarding their favorite toys.

Small in size, the Pekingese can live anywhere, including apartments. They don't need a lot of vigorous exercise, but exercise is important, and they do like to stretch their legs in the park.

So small, so adorable. Owners can't resist dressing them up.

Although a crown is probably his most fitting accessory.

That intelligent, expressive face is almost impossible to resist.

Has your heart melted yet?

How about now?

Once you've earned the love of a Pekingese, you've got a friend for life.