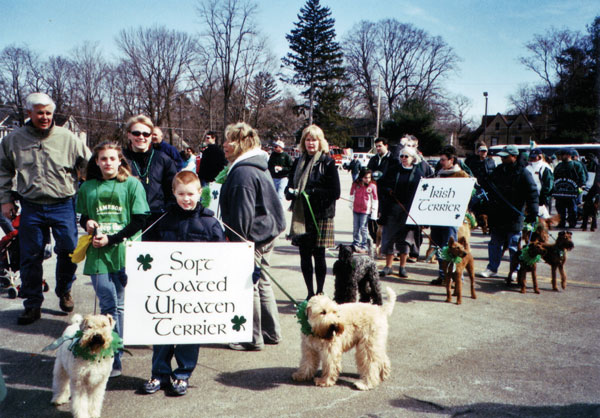 Those words on a banner announce the Celtic canine marchers in the St. Patrick's Day parade in Morristown, New Jersey. For more than two decades, the procession of dogs with genetic roots in the green sod of Ireland has been a crowd pleaser along the route.
Including dogs in the Morristown parade was the brainchild of Jimmy and Alice Dickson, who thought this would be a good way to showcase their love of all things Irish and all things canine. "We call it 'Native Dogs of Ireland,'" Jimmy told the AKC Gazette in 2007. "As we march along, everyone wants to pet the dogs. We explain that these dogs originated in Ireland. People see the dogs in the parade, then they are interested in learning more later on."
Alice said the parade is like having a "moving AKC education booth. People are often surprised to see how many dogs come from Ireland."
In New York City, massive, magnificent Irish Wolfhounds lead the marchers but, all over the country, Irish dogs are enlivening the celebrations.
Does the St. Patrick's Day parade in your community have a procession of pups from the Emerald Isle? Show us a picture!