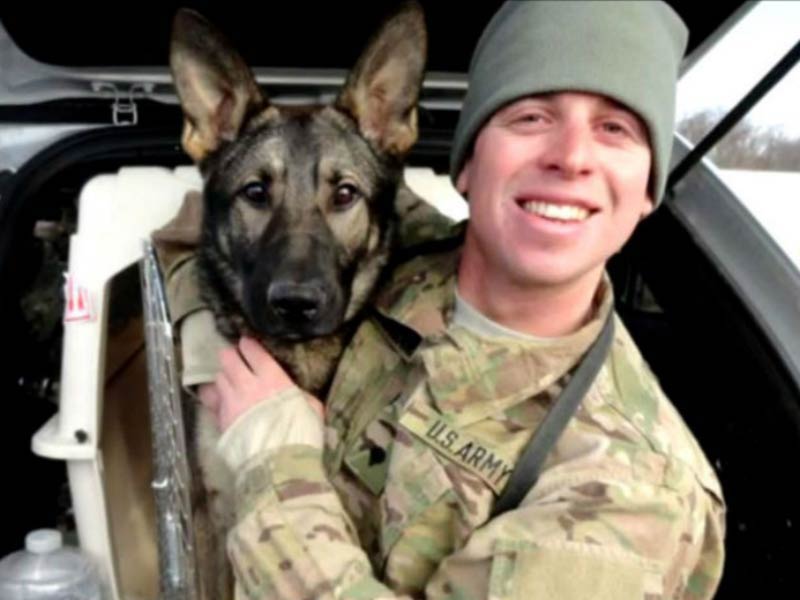 There is no stronger bond than that between a K-9 and handler. These teams fight every day for our safety and freedom, and we want to thank them for that, especially on Veterans Day. In honor of all those who have served, we've compiled a list of heartwarming and beautiful handler-dog reunions.
Many times handlers and dogs only work together for a period of time, but their bond is everlasting. These videos show military veterans who are lucky enough to reunite with their dog (and even get to take them home!).
Break out the tissues, you're probably going to need them.
Rebel, a Yellow Labrador Retriever and Lance Corporal Andrew Harmon had served in Afghanistan together. After Rebel retired, he was able to come home and live with Harmon.


Army Specialist Vance McFarland served in Afghanistan with his bomb-sniffing dog, Ikar. Here they reunite before returning to McFarland's home to live together.


Donna, a Belgian Malinois trained in tactical explosive detection, served in Afghanistan with Former Army Specialist Tyler Roberts. After four years, the two were reunited and Roberts was able to bring Donna home.


Staff Sergeant Russ Beckley, Jr. served in Afghanistan with Rico, a German Shepherd. After Rico retired in 2012, he lived with Beckley's family while Russ continued to serve.
Unfortunately due to Rico's poor health the family made the difficult decision to put him down this year. Luckily, however, Russ and Rico had the opportunity to reunite to say one final goodbye.
We love to see these handlers and their dogs reunite; their bond is unbreakable and beautiful.
Thank you to all of our veterans! You all are our heroes.