This summer the AKC Museum of the Dog in St. Louis will be offering a two-part painting class for adults, taught by that peerless painter of the sporting life, Bob Bertram. Session 1 will be given on Tuesday evenings from June 16 to July 14; Session 2 will be given on Tuesday evenings from July 21 to August 18.
Bertram, of Manchester, Missouri, is a master painter in oils and acrylics whose work is highly sought after by galleries and private collectors. His vivid sporting scenes have also graced the covers of leading gundog publications. If you are one of those people who think it's too late in life to finally get serious about painting, take heed of Bertram's story: He didn't seriously devote himself to his art until he was 39. Feeling burned out in the midst of his career as a freelance illustrator, designer, and creative director, Betram decided to chuck it and start over. "I had always felt I was meant to be a painter," he says. "The computer age had taken over my working life. The traditional media, the paints and brushes I had collected in the hopes of becoming a painter one day, lay in the corner of my studio collecting dust. So, I began to spend a couple of hours each day painting."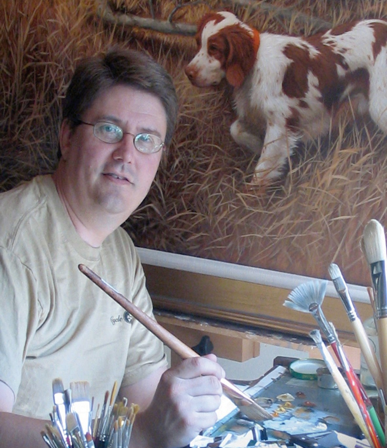 At first, Bertram admits, the results were pretty bad. "I read a lot, studied painters I admired," he says, "and did my fair share of trial and error. Lots of error. A good number of paintings ended up in the dumpster." But he stubbornly stuck with it and, with the support of his wife, Linda, and master-level mentors Don Kueker and Robert K. Abbett, Bertram began making progress.
"Gradually I got better at this painting stuff, and I continue to try to improve each and every day." And should he ever feel a lack of inspiration, all he has to do is look down at his feet: Bertram, an avid outdoorsman, shares his studio with two Gordon Setters (http://www.akc.org/dog-breeds/gordon-setter/) and a Boykin Spaniel (http://www.akc.org/dog-breeds/boykin-spaniel/.)
Bertram is ready to pass on his hard-earned wisdom to his students at the AKC Museum this summer. "Session 1 is all about values, lights and darks, seeing them and using them to create form," he says. Session 2 will move into color and build on the foundation laid down in Session 1.
"We will be using acrylics, but all the lessons will be applicable to oils. Acrylics are faster-drying, and clean up is easy, so that is what we will be using. It should be fun," Bertram concludes, "and everyone will get better at painting for sure!" And Bob Bertram is living proof that it's never too late to get better at painting.
The AKC Museum of the Dog, 1721 South Mason Road, St. Louis; class size is limited to 12 people; to register, call the museum at 314-821-3647.