A new 'do can mean a fresh start for homeless dogs.
Bad hair. We've all had it.
For most of us, it's a nuisance that, at worst, means we'll have to burn some photographs or erase a video.
But for a dog, a messy, dirty or tangled coif can be the difference between finding a new home or being left behind in a shelter. Sometimes, a dog's hair gets so dirty and matted that there's nothing to do but shave it all of, as it was the recent case of Harry the Chow Chow in Kansas City, Missouri.
But a good haircut can work miracles. That's why Wahl, the Illinois-based grooming-supply manufacturer, has teamed up with the Greater Good Foundation to showcase the most striking improvements in shelter-dog coiffure through its Dirty Dog contest. Ten dogs are in the competition. There is a Facebook page where the public can vote for three winners through July 19. First prize will be $5,000, second place, $2,000, and third, $1,000.
For the past four years, Wahl has donated pet shampoos to shelters to help dogs find homes.
"When it comes to pet adoption, a first impression is crucial in determining if an animal will find a family," Shay Moeller, pet product manager for Wahl said in a press release. "By providing pet shelters with the grooming supplies they need we can demonstrate that the same animals often perceived to be 'damaged goods' are actually healthy, fun loving pets deserving of a new home."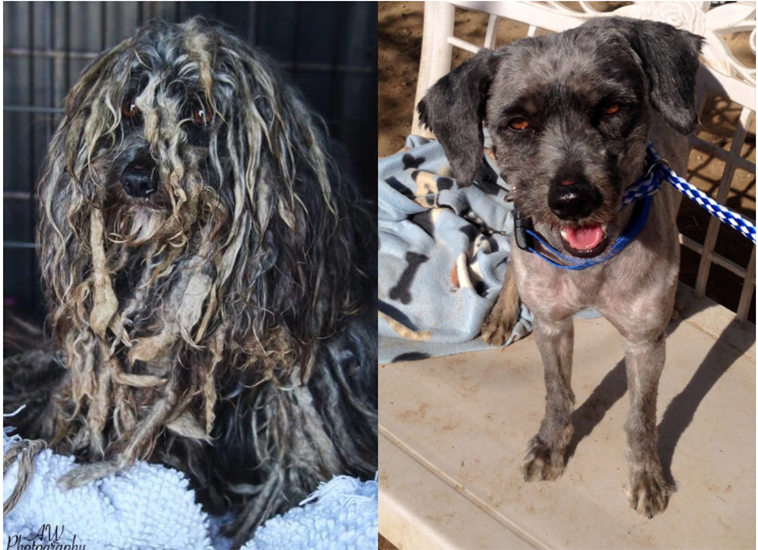 For more amazing transformations, you can also visit Wahl's Dirty Dogs Before and After Gallery.
Good manners are also important for helping dogs find homes and keeping them there. Learn more about training your perfect companion at the AKC Canine Good Citizen program and Good Dog Helpline.