Dogs should never (ever!) be left in a hot vehicle. That's old news. Dogs love to be with their people, and most get jazzed at the jingle of car keys. Also not breaking news. But that fridge isn't going to stock itself, and the kids' need school supplies, so what's a dog owner to do?
Like everything else these days, there's an app for that. Zingy is an on-demand dog-walking service, whose DASH Stands—think of them as a dog valet—are appearing at shopping centers throughout Los Angeles.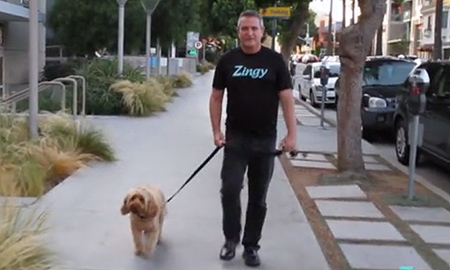 The app connects responsible dog owners with a community of trained dog walkers. Zingy protocol requires each walker at a DASH Stand to satisfy a rigorous 6-point background check to ensure they are qualified and trustworthy, and owners can post reviews and use a rating system on the app.
During the walk, owners get real-time notifications (yes, that includes potty updates), can monitor the walk live, and even get a care note and photo at the end. Zingy Pet worked with the design firm IDEO to develop the app.
"Since launching DASH Stands at farmers' markets and office complexes earlier this year, we've received overwhelming demand from dog owners to increase our locations," says Tobi Skovron, Zingy's founder. "Bringing Zingy DASH Stands solves a problem for dog owners, with the added benefit of ensuring dogs are no longer left in dangerously hot cars during the summer."
To book a walk from a DASH Stand, shoppers download the free Zingy app, from the iTunes or Google Play app stores, enter their dog's information, and visit the DASH location for drop-off. Depending on how long you need to shop (and we know how easy it is to get sidetracked—is that a Cinnabon?), walks can be from 15 to 60 minutes. They start at $10, and owners fetch (sorry) their dogs from the DASH Stand. If you're running late, the walk will continue until you return, so your pet will remain in safe hands.
DASH Stands will rollout throughout Southern California, then expand nationally next year.