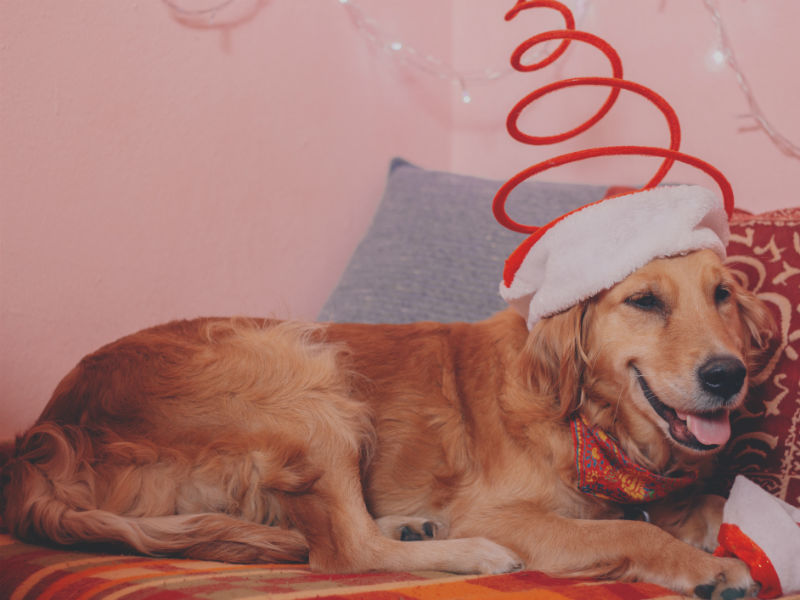 As December keeps on breezing by, the holidays are getting closer and closer. And while all of us are excited for sleigh bells ringing, time with family, and some much needed relaxation, the build up to the holiday season can be stressful.
But fret not, the power of pups is here for you! Let these howl-iday GIFs keep you merry and bright.
Check out all of this very festive adorableness.
Nothing like a new toy to boost holiday spirits!

This Pug looks like he needs a personalized stocking from the AKC Shop to go with his santa hat and reindeer toy.

Shake off the stress, because this Golden Retriever pup is looking fabulous in his howl-iday sweater.
Want one for your dog? Flaunt your holiday spirit with one of our doggie sweaters!

"My favorite time of year!" -- This Husky.
And with his snowy background, we're not surprised!

Howl-iday decorations are getting awfully lifelike...
Guess if you're the first dog, you should expect things like this.
See more presidents and their pups here.

"Did someone say howl-iday celebrations?"
"I got my ball and I'm coming!" -- This Shiba Inu.

"We Pugs are known for being mischievous, but I'm on the nice list, I swear."
"Santa Paws, please stop here!"

Labrador sniffs for the howl-idays.
He's happy to give out some love.

"Did someone say howl-iday treats?"
"Count me in!" -- This Saint Bernard.

SNOW.
Just in time for the howl-idays. And this Corgi is loving it.

"All this excitement is exhausting!"
"Time for a howl-iday nap." We agree, pup, we agree.

Want more howl-iday dogs in your life? We sure do.
Check out dogs helping their owners decorate for the holidays and Winter Wonderland Pugs.
Running a little behind on your shopping this season? Don't end up on the naughty list with your friends and family! Check out all our pawsitively perfect gifts on the AKC Shop.