Sweetie, a diabetes-alert dog, was on the job for less than 24 hours when she saved her new owner's life.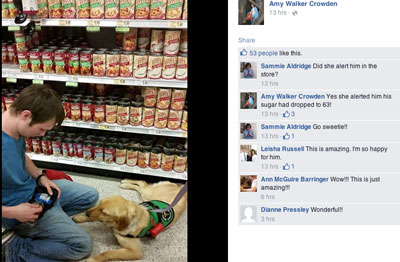 T.J. Tucker, 20, diabetic for 11 years, told local news station WHNT that the year-and-a-half-old dog sounded a warning on the first night. He said she woke up and got sick from being stressed over my sugar, he said. Tucker tested his blood and found it was above 300, triple the normal levels. The small yellow retriever alerted several other times in the first day, including once when Tucker's blood sugar dropped while he was in a supermarket, which drew cheers on his mom's Facebook page.
Tucker's mother, Amy Crowden, used social media as well as local fundraisers to cover the $25,000 cost of the dog, whose training to sniff blood sugar abnormalities began when the puppy was 7 weeks old. They are about halfway to their goal.
Sweetie, who arrived on May 9, came from Warren Retrievers, in Madison, Virginia, one of several groups that train service dogs for diabetics, autistic children, victims of post traumatic stress disorder, and epilepsy. Its motto is, "Until there's a cure, there's a dog." The organization trains its diabetes alert dogs to perform several functions, including altering to blood-sugar swings, getting help or medication, and dialing 911. The training also covers all of the public access training, testing, and certification.
Find a dog trainer near your location and take the Canine Good Citizen test for your dog.