Dachshunds are bound to pop up anywhere, doing anything. But who has time to keep track of all those Dachsie doings? As a public service, AKC Dog Lovers goes around the corner and around the world to bring you another edition of (cue deep-voiced announcer with lots of reverb) DACHSHUNDS IN THE NEWS!
Wynnewood, Oklahoma—Bonedigger the lion, who resides at the G.W. Exotic Animal Park, has had his own therapy Dachshund. Milo the Dachsie has been caring for his 500-pound buddy for five years. Bonedigger is disabled by a rare bone disease. He was introduced to Milo as a cub, and the two hit it off instantly. They spend their days together grooming each other, vocalizing together, and lolling around in the Oklahoma sun.
Vancouver, BC, Canada—On July 23, decisive action by the Vancouver Police Department saved two Dachshunds from suffocating to death as they were locked inside a car in the sweltering mid-summer sun. The officers smashed in the vehicle's window to rescue the Dachsies, who were visibly in distress. The Vancouver PD posted the photo below as a vivid reminder that it's never a good idea to lock your dog inside a car for any length of time, especially in the summer. "Dachshunds WERE on board, in the heat and in distress," the VPD tweeted. "We got them out." (More summer safety tips here.)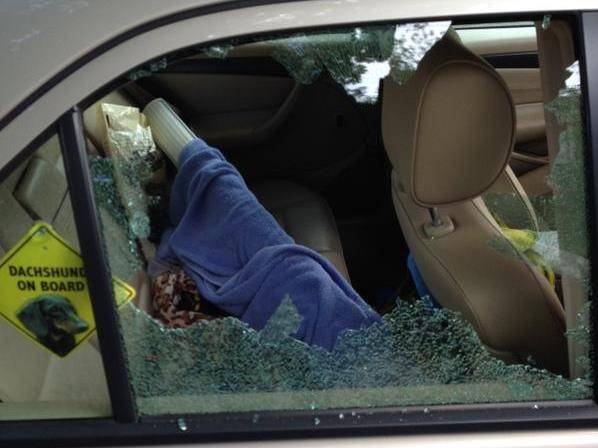 Youngwood, Pennsylvania— On August 5, The Pittsburgh Post-Dispatch ran a feature about Allie, believed to be the only Dachshund to earn the AKC's Search and Rescue title. A mini longhair, Allie is a member of the Youngwood Fire Department K-9 Search & Rescue (SAR) unit and specializes in wilderness searches for missing persons.
Allie is a Dachsie with moxie: In addition to her search-dog title, she's also an AKC ring champion and field trial champion. To earn the AKC's SAR title, a dog must have completed at least five searches. Her compact size makes her especially valuable in tight spots too small for German Shepherds and other more typical search K-9s.
Despite her impressive record, law officers are still getting used to the sight of this 10-pound bratwurst-with-legs in her K-9 search vest. Owner Monica Galley told the Post-Dispatch, "The first time we went on a search, I arrived with Allie in my arms and a police officer said, 'Really?' "
Cypress, California—Results from the Wienerschnitzel Wiener Nationals: Congratulations to longhaired standard Dachshund Finn Snook, who burned up the track at Los Alamitos Race Course on July 18 to win the 20th running of the most prestigious race in all wienerdom. Owned by Josh and Brittany Snook of Lawndale, California, Finn bested an entry of 100 Dachsies who ran in 10 trial heats of 50 yards. The annual race, benefiting the Seal Beach Animal Care Center, has raised more than $230,000 since 1996.
Summer reruns: There's a shortage of original TV programming every summer, making it the perfect time to revisit classic episodes of your favorite shows. Enjoy this very special episode of "Dachshund's Creek," a place where "relationships are never simple."
Join us next time, when the AKC Dog Lovers news-hunds will again span the globe in search of DACHSHUNDS IN THE NEWS!
(For Dachshund information provided by serious grownups, visit the Dachshund Club of America.)