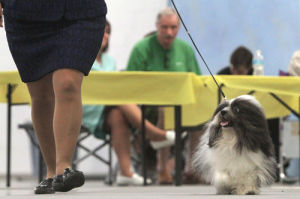 (Zach Mayhew/For The Independent)
Over the weekend, the Grand Island Kennel Club hosted its 53rd AKC All-Breed Dog Show as well as Obedience and Rally Trials.
Watch a clip and read a recap of the Grand Island Kennel Club event, which was covered by local NBC affiliate KHAS and the newspaper The Independent.
We loved this quote from Linda Wahlquist-Soos, a Miniature Schnauzer breeder who attended the show and was interviewed by KHAS-TV: "It builds a relationship between you and your dog that can't be beat."