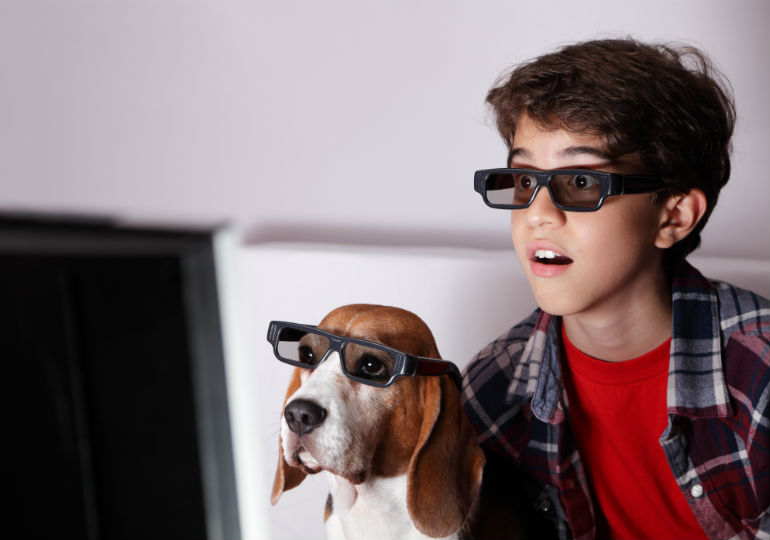 One of the great things about Halloween is all of the different ways you can celebrate—with your dog of course! You can go trick-or-treating, have a party, or just spend the night in.
If you and your dog decide to just hang out at home on All Hallow's Eve, pull out the popcorn, some pumpkin dog treats, and make it a Halloween movie night! There's nothing better than snuggling up on the couch with your pup anyway, might as well take the opportunity to watch some great Halloween flicks.
There are so many movies to choose from! You can go with a dog Halloween movie, a family classic, or something a little scary. Check out some of our favorites below.

Dog Halloween Movies
"It's The Great Pumpkin, Charlie Brown"
A Halloween and family classic, "It's The Great Pumpkin, Charlie Brown" features America's favorite Beagle, Snoopy! This is certainly a great movie choice for humans and dogs, alike, because who doesn't love Snoopy?! Did you know Snoopy has an honorary AKC registration? Check it out here.





The Harry Potter Series
This might not be the first series you think of when you think "Halloween" or "dogs," but hear us out. Not only are these movies filled with witches and wizards, but also other spooky Halloween-esque creatures: a troll, giant spider, Dementors, and more. Plus, if you're watching carefully, you're sure to see some dog cameos. There's Fang, the not-so-brave Neapolitan Mastiff, and of course, Sirius Black, who transforms into a black dog.






Scooby-Doo (Cartoon or Live-Action)
Whether the original cartoon or the 2002 live-action remake is more your style, Scooby-Doo is one dog guaranteed to fulfill all your spooky Halloween movie needs. Watch this hungry and scared Great Dane solve mysteries, alongside his gang of "meddling kids." And maybe throw a Scooby snack or two in there for your furry movie-watching companion.

'
"The Nightmare Before Christmas"
A musical movie perfect for Christmas AND Halloween, you can't miss out on this Tim Burton classic. Follow and cheer on Jack Skellington as he tries to bring Christmas to Halloween Town. And don't forget to look out for Zero, Jack's ghost dog who follows him wherever he goes. You and your canine companion will be howling along with this one.

"Frankenweenie"
If "The Nightmare Before Christmas" has you and your pup barking for more Tim Burton, then "Frankenweenie" is your solution. A play on Mary Shelley's "Frankenstein," "Frankenweenie" features young Victor as he tries to do what we all often wish we could do, bring his dog back from beyond the rainbow bridge. This spooky tale is typical Tim Burton, combining humor and fun with criticism of the original Frankenstein story.




"E.T., the Extra-Terrestrial"
One of the great American classics, "E.T." is the perfect film to revisit this Halloween. You and your canine will appreciate seeing Harvey the Golden Retriever and, of course, you'll both enjoy this heartwarming, iconic tale.



Halloween Classics
If you and your dog are looking to broaden your movie horizons, check out some Halloween favorites. There's family-friendly films like:
"Hocus Pocus"
"Casper"
"Beetlejuice"
"The Addams Family"
And then there's the truly scary for the brave people (and dogs) out there.
Don't forget to have some candy ready for any trick-or-treaters that might ring your doorbell. Have the pause button ready, and your dog, too. Check out our tips on how to prepare your dog for trick-or-treaters. And for more Halloween safety tips, see our safety and activity guide.
Have you picked your dog's costume yet? If not, or even if you have, check out our complete guide to dog Halloween costumes here.
For more spooktastic inspiration, head over to the AKC Shop and check out our Halloween collection!