Broadway's beloved animal whisperer comes to TV in the Discovery Family Channel's "From Wags to Riches with Bill Berloni" on Thursday, August 6. The new reality series anchors the network's month-long "Pawgust" slate of animal-themed programming.
Berloni's credits include training Sandy for the original production of "Annie," Helen Mirren's corgi co-stars in "The Audience," and Nana in NBC's live production of "Peter Pan." He lives on 90 acres of Haddam, Connecticut, with his wife, Dorothy, their college-bound daughter, Jenna, and a menagerie that includes pigs, horses, a donkey, a cat, a macaw, and two dozen rescue dogs trained for stage and screen work.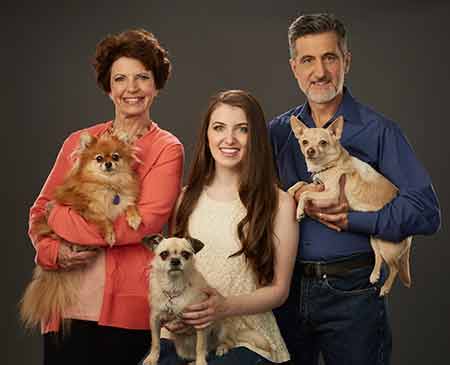 "From Wags to Riches" centers on Berloni's home life, his Tony Award–winning work in the always-unpredictable world of showbiz, and his role as director of training and behavior at the Humane Society of New York, where he rehabilitates problem shelter animals for re-homing.
Berloni and Discovery Family (formerly The Hub) are promising something revolutionary: a reality show featuring actual reality. "This is an anti-reality TV show," Berloni told the New York Daily News. "We didn't want to become reality-show characters. We wanted to be ourselves."
"Bill Berloni is truly a unique breed," Discovery Family general manager Tom Cosgrove says. "A brilliant trainer with a big heart, many of the dogs he puts on stage are dogs that he has personally rescued." In all, Berloni has rescued 150 dogs for showbiz careers since 1977, when at 20 years old he discovered his first "Sandy" in a Connecticut shelter.
The show's co-executive producer Sarah T. Davies says, "I do regard him as a real-life Dr. Doolittle."